OK, here we go...
(I know Slodat... I know! let my public flogging begin, I can take it!)
After MANY hours of reading through and searching for high amp alternator upgrades I have come to 3 main ways to do them. I tried to find the best layed out posts and put them all here along with wiring diagrams I could find and any other resources I thought relevant. Most are in the links below so I won't bore you w/ them here. It honestly isn't that hard of an upgrade but takes some thinking it through first to save you time and money. People have voiced an interest for a parts list etc, but sometimes what somebody did isn't going to exactly work for you.
KA24E upgrade by Icehouse
90 amp bolt with angled water inlet and KA mounting bracket
http://community.rat...l-series-motor/
Saturn alternator setup by Mike Phillips
100 amp I think
http://community.rat...how-to-wire-in/
GM Alternator Upgrade
105 amp according to specs from Schucks/Autozone
(couldn't find a clearly layed out walkthrough, if one exists lemme know I'll put it in here)
So after looking at these different options, I decided I didn't want to go find an angled water inlet and alt bracket and mess with coolant yet again this spring. That and I want the higher amp alt for when I want to upgrade the lights and stereo down the road so the KA alt upgrade didn't appeal to me
After looking at what limited space I have to work with I did not want to go with the Saturn Alt route, mostly because I really didn't want to grind down my steering coupler bolt since that is a grease fitting and I also did not want to take off the fan baldes/pully/radiator to get one little bolt off.
After comparing the alts I decided to go with the GM internal fan alt since it seems like the most compact and readily available and easily replaceable part.
I spent quite a bit of time looking through Autozone's site for alternators mostly because it was fast to change vehicals and lookup different alts. O'reily's site is horrible, though you CAN look up a part and it will tell you the other vehicals it will work for, so that would help when looking something up in a junk yard! I was mostly trying to find other alternators that would fit with out having to hunt down the V belt. I also used the Chevy S10 4cylinder (smallest engine) to help better match RPM's. Here is an incomplete, but good enough spread sheet since I didn't want to spend all night making this thing. At the bottom are alts for various Datsun/Nissan trucks as well.
I chose to go about the mounting a different way. Mostly I did it this way because It seemed the easiest way with out having to get a double V pulley because I didn't want to spend the time hunting one down.
Parts List:
This changed a bit as I tweaked it here and there all the hardware was found at Home Depot once I figured it all out:
7/16" 1-3/4" Nut for threaded rod as a spacer
(coulda bought 2 and cut the other but washers were better for fine tuning later)
4 3/8" lock washers
14 3/8" washer
2 3/8"x1" bolt (grade 8 for strength)
1 3/8"x
6"
5-1/2" bolt (grade 8 for strength)
From the auto parts store:
105amp GM alternator (see chart but part# ULT 01-1433 from O'reily) $125.99 after core
4 pin plug - little bastard cost $35, so well worth searching for in a junk yard (part# BWD PT5674)
Battery Meter that plugs into the cigarette lighter (part# INN 3721) $19.99
15355 or 35.5 inch fan belt
V belt pully, Freebie from their alt tester drawer at O'reily.
The funny thing is, both O'reily and Autozone sell the Delco reman alts, but sell them as different names...All remaned in Mexico
Yay lifetime warranty.
=====================================================
Takin' off the S6 pully and putting on the 1V pully
**CATUION**
be careful of the axial force you put on these things. I had moved the shaft just a hair but putting force on it parallel to the shaft. It was enough to make the epoxy from the internal fan blade touch the case. A tap on the other end fixed the crisis.
**CATUION**
- Make sure and use thread lock, as I wasn't taking chances with the nut being on there part way.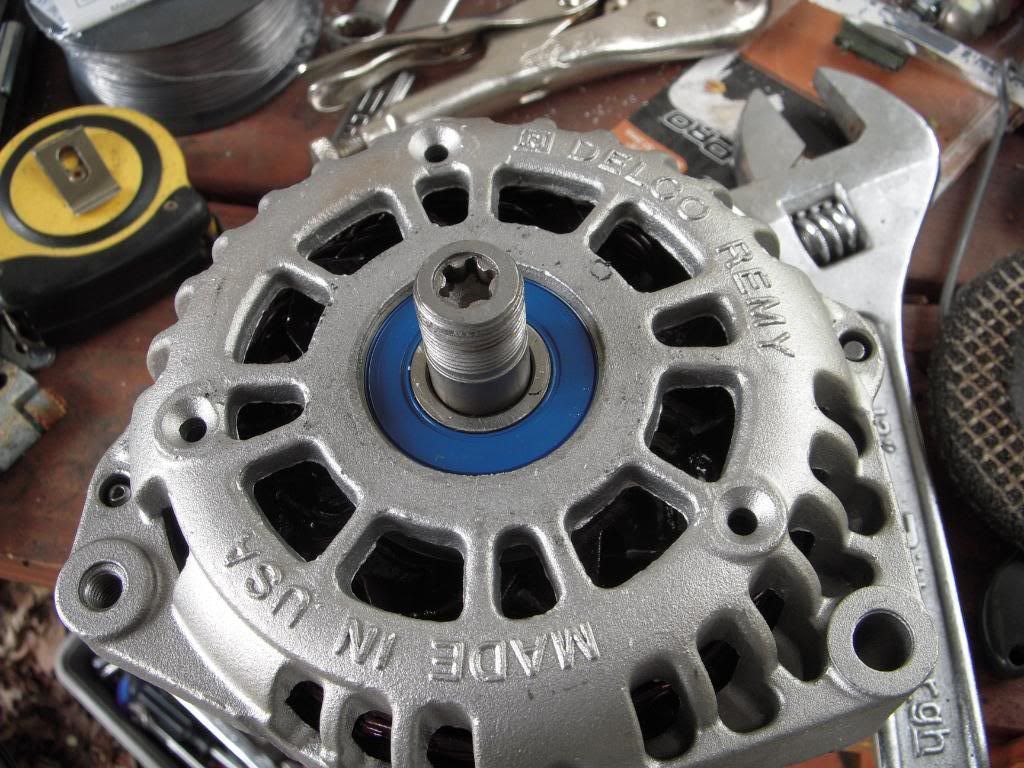 Pully comparison shows nearly identical radius to best match the RPMs
Side view of pulleys
All nice and tight with threadlock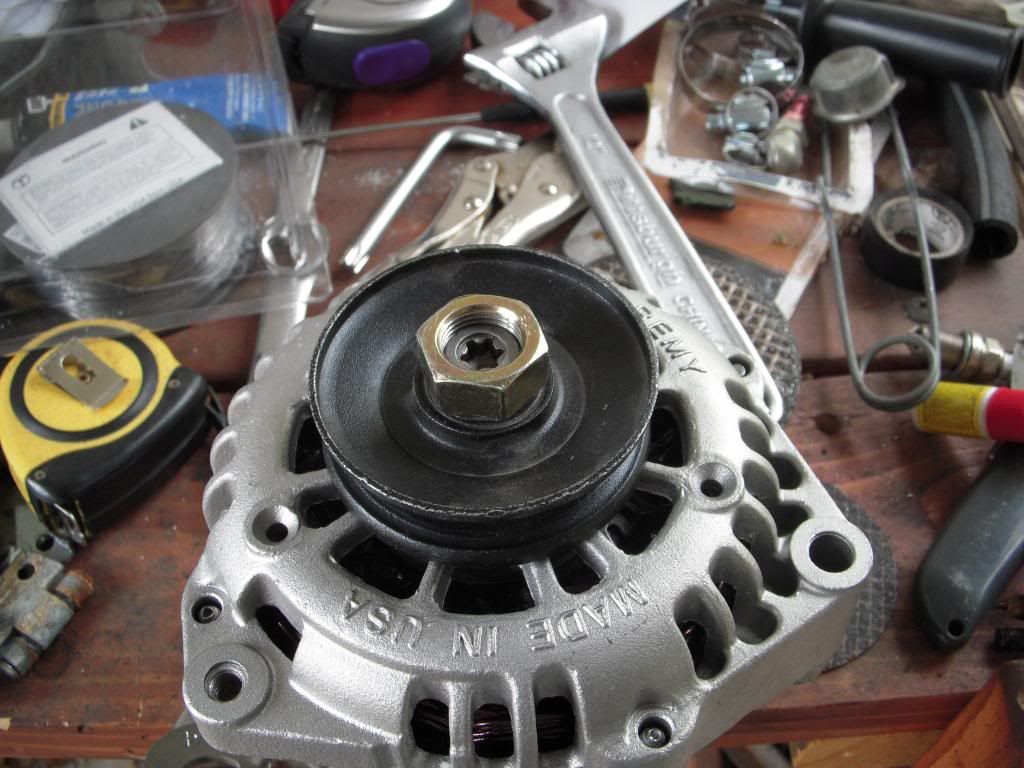 So here is where I took a different approach. I wanted a solid mount and to get stuff to line up, this is what I came up with. I had an extra mount so I figured going a different route would be a good way to experiment a little. If I don't like it, I can always do something else.
Mounting setup from the bottom
5 spacer washers plus 1-3/4" spacer
(this can be fine tuned by adding/removing washers based on what pulley you have)
Near perfect alignment of the fan belt
I REALLY wanted it to be straight so I had to add/subtract washers a few times: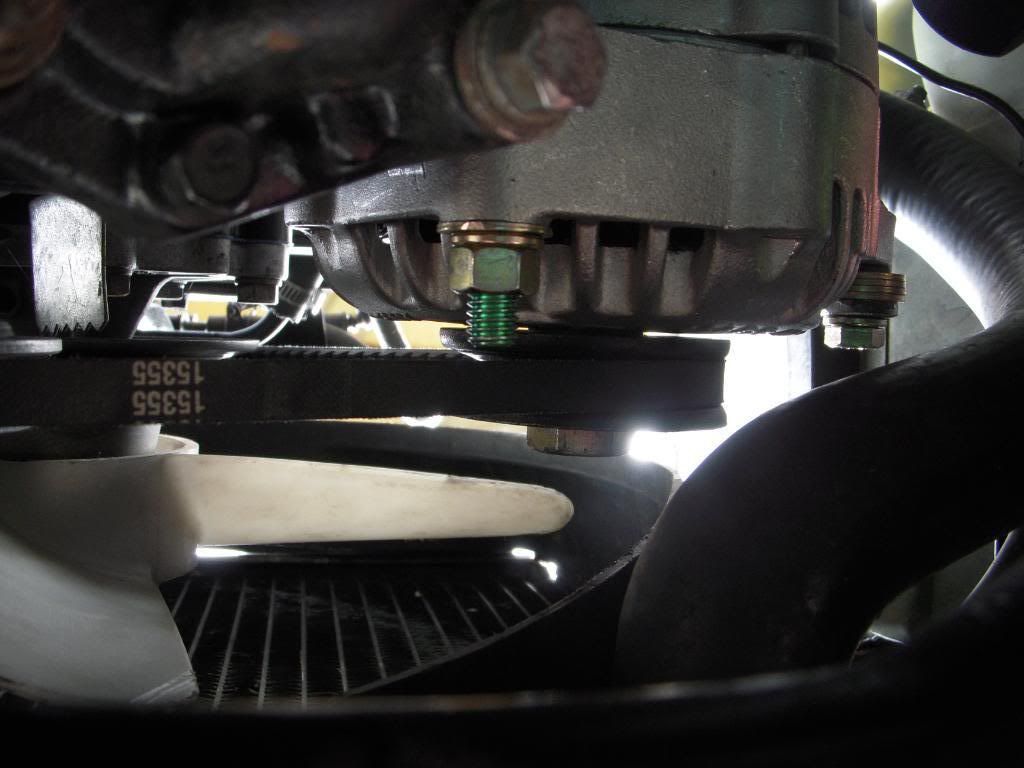 Front mounting bracket setup
I used and extra bracket from another motor
It isn't pretty, but it's functional:
From the top
I also tapped out the smaller hole to fit 3/8"-16pitch because I really wanted a solid fit.
More than enough clearance to the steering coupler
===========================================================================
- As of yet I have not hooked up the plug to test, but I'm confident it will charge
- I want upgrade the grounding wire and Bat wire with fuse, because not doing so is just asking for trouble. The stock wiring was not designed for more than 3 times the load.
- NOT grounding the frame is just asking for it.
I'll post pics of that tomorrow, possibly tonight if I get the time, but it's already late, so probably not. I spent too much time putting this post togehter
This is for a '78 620 so the alt is internally regulated. If you didn't know already , the T connector is "L" and "S" for Lamp and Sense.
Looking at the wiring diagrams, both show the lamp (or "L" plug on the T connector) wired up the same
Sense (or "S" on the T connector) is the same and just jumpered to Bat
'78 Datsun 620 diagram
GM Diagram
Here is the 4 wire plug labeling
Don't use P or F, just L and S like on the stock "T" connector
Here is just a site with LOTS of info/specs on different alts. I think I got this from one of the other how to's at the top
http://www.alternato...s.com/index.htm
CS-130 GM alt
http://www.alternato...alternators.htm