I just brought this 71 521 home this weekend. Mostly drivable, other than a couple items to fix. It sits too much high for ratsun types, so after I sort out some drivability issues, I'll get into moar lows and other stuff.
there's a bit of rot in front corners of each door, and around the driver's side roof pillar, but mostly surface rust.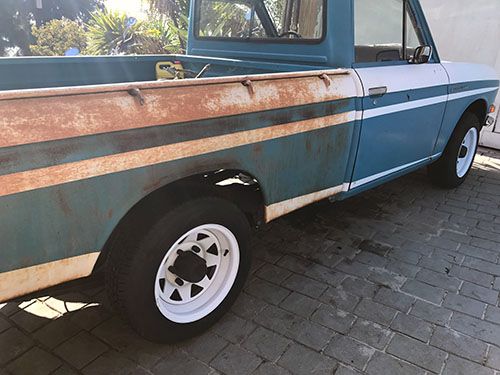 Not too keen on the diy white stripes, so I'll mess around with some easy off to see if I can get back down to the factory paint.
Floors are solid with just some surface rust to clean up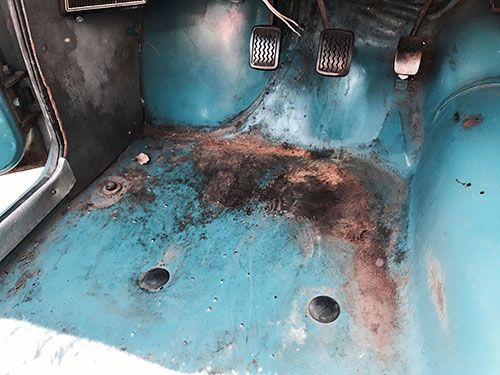 It had a nicely un-bent hood, hopefully I can keep it that way! Also still has insulation stuck to the hood, although it's a bit ratty.
original numbers matching l16 in there. Other than overheating, it runs great! Second up on the todo list is a couple of new hoses, and a thermostat. The rad is apparently newly rebuilt. I'll try the thermostat change and see if that solves it.
The original kangaroo bag is there, but I didn't see if it'll hold water yet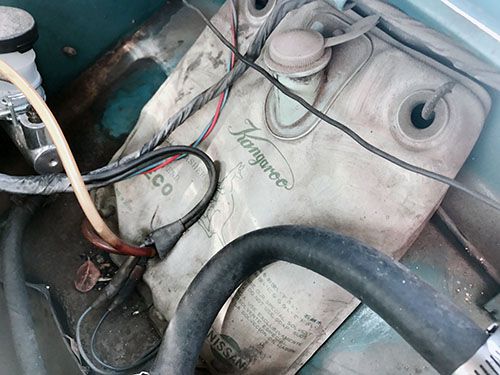 No bumper was installed, but I got a set of thai repro bumperettes still in a box (I need to make some brackets for those), and also got this stout chrome step bumper. Not sure if I'll keep that or sell it yet. It's kinda handy to have a tow hitch once in a while. Most of the bigger bumpers I've seen for these is the big diamond plate ones that kinda wrap around the corners of the bed. I haven't seen this kind before.
Not diggin the carpeted dash cap.
the brakes started binding, and the rear wheels were feeling too hot when stopped. So pulled off the rear wheels and drums to see what was going on.
looked about right, until I moved the shoes a bit by hand and the return spring on the driver's side fell on the ground. Seems it lost its curl on one end, somewhere along the way.
There was also a bad cylinder there, and the adjusters were stuck rock solid, even with a soak of pb blaster. The drivers drum also had some nasty grooves worn into it. And this thing fell out along with a small washer. Not sure where it belongs!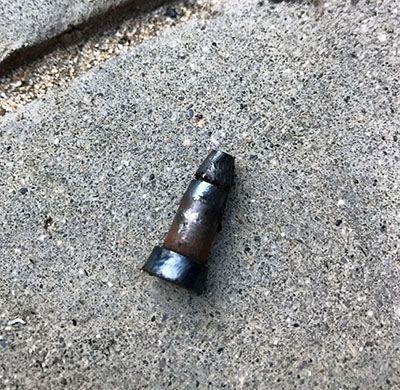 It's almost as cheap to buy new drums as it is to turn the old ones, so new rear drums and all the other bits and springs I need for the rear wheels are on the way from rock auto.
It was pretty quikly apparent that the rear view mirror also had to go, considering it rattled around constantly, and I could barely see out the back window due to it's placement so close to the roof. That's a suction cup screwed into the original mirror location.
I would have considered an oem mirror, but they're stupidly expensive to find, so a wink mirror it is! It'll get properly JDM-style sticker bombed later. A few small holes drilled for new screws and I can see all the cars now.
Someone in the truck's past fastened the side mirrors so high up and so close to the vent windows that I can't open them. I'm thinking about fender mount as an alternative to door mount.
Brakes are the next task once the parts show up. Then I'll need to find some lowering blocks and new u bolts and lose some height.