Left the Williams run about 1:30 pm after having lunch with Fun5ten (Ben) & rv510 (Rich) to go to Kingman to look at a 1985 Nissan 720 ST King Cab.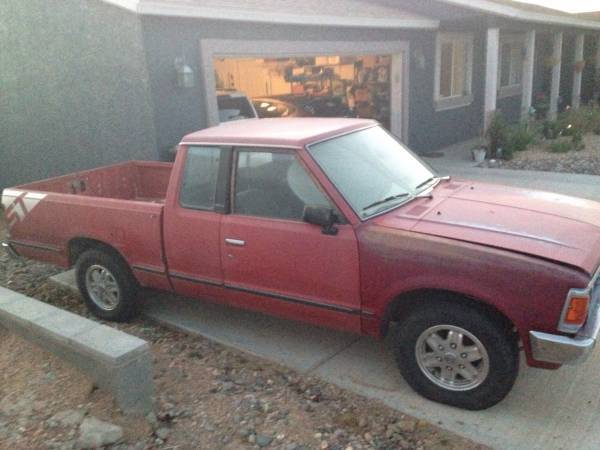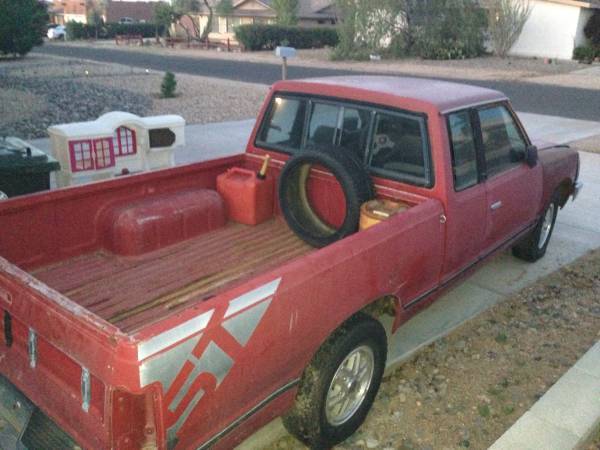 Well I was sold when I saw The ST Alloys!!! The problem is there is no title it was abandoned about 13 years ago on some property where it stayed until they owner of the property gave it to the current seller about 4 years ago. He could not get it running. lost interest and listed it on Craigslist for $400.
Long story short I purchased it for $200 as is with a bill of sale. It is now in Gene's back yard.
Got a little done on the 85 720 ST with Gene's help but got rained out. Had no power to the fuse box so started checking out the battery terminals are real dirty, so cleaned those. Still no power to the fuse block. took the fuse-able link apart from the battery terminal screw, cleaned the copper piece that the screw goes though and installed a new terminal bolt. now have power to the fuse box. Removed a hack installed Cal Custom cruise control. Every connection was made with scotch locks. The worst way to make a connection.
Sprayed some starting fluid in the carb and it fired and ran for a few seconds.
Found that the fuel pump was bad. I think I have a good used one, if not I will order a new Facet Fuel Pump. I will replace all the old rubber fuel lines and while I have them of the steel lines I will spray carb cleaner in them and let it set for a few minutes, then I will rubber band a couple paper towels over one end of the steel lines and the using a compressor I will blow through the lines. The paper towels will catch any thing that comes out of the lines.
Started pulling the gas tank and the rain started and got rained out.
Also Gene pointed out that the spare under the truck was also an ST wheel.
Pictures to come later.
Did not know Gene took these pictures with my camera.