well, by popular demand its time to start a thread for the 411...
i kind of decided to put the KA from my 620 in the 411 to get the project rollin.
it was going to end up with an l20b and a Z car 4 speed, but i have the KA on hand, so thats whats goin in it.
also gonna complete the 210 suspension swap now that i have an engine to build it around.
ive already ripped the whole frontend out of an 81 210. ive already figure out how much track width i have to take out of the 210 suspension to make it "fit" in the 411. ill go into more detail as i go along.
but on to the car!
its a 67 rl411 4 door. came with the r16 and the 3 speed bw auto trans. its got a super nice interior thats completely stock. the interior was the only reason i said it would be okay to get it.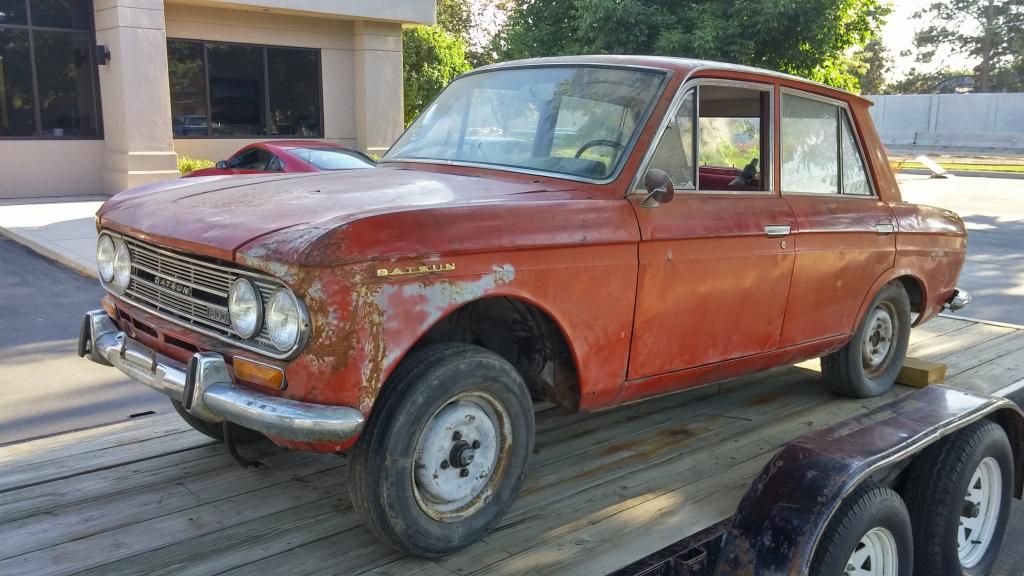 we picked it up about a year or so ago. it used to belong to a family of a friend i went to high school with. it sat in there yard all though the time i was in high school up to about 4 years ago when we found it on CL.
went to buy it from them, and theyd already gotten rid of it.
couple more years go by and it pops up on the list again. this time its all taken apart and the whole stock front suspension was fucked.
and this is where we get to the now.
like mentioned before, i picked up a frontend out of a 210, since 411 suspension parts are near impossible to find and expensive as hell. figured 210 stuff should be a bit easier to find parts for, and 510 or Z car parts could be converted to work with it once it was built.
so, now its time to get down to workin on it finally. im gonna yank the KA, get the truck parked, and start mocking up the crossmember and suspension..
this is where ill dump all that ooey gooey goodness from the build.
more to come....