So this just happened. It is like a Revelle model kit we had as kids in that it looks pretty out of the box but there is some assembly required. I haven't gone through the inventory in the back, but it looks like it is mostly there.
Plans are to get it running. Keep it stock. But maybe some ZX struts and dropblocks. And source some JDM wheels.
I am sure I will be needing help figuring out what plugs into what and what connects where? Cause you know I am more visual than mechanical. But I know you cats can get me through anything.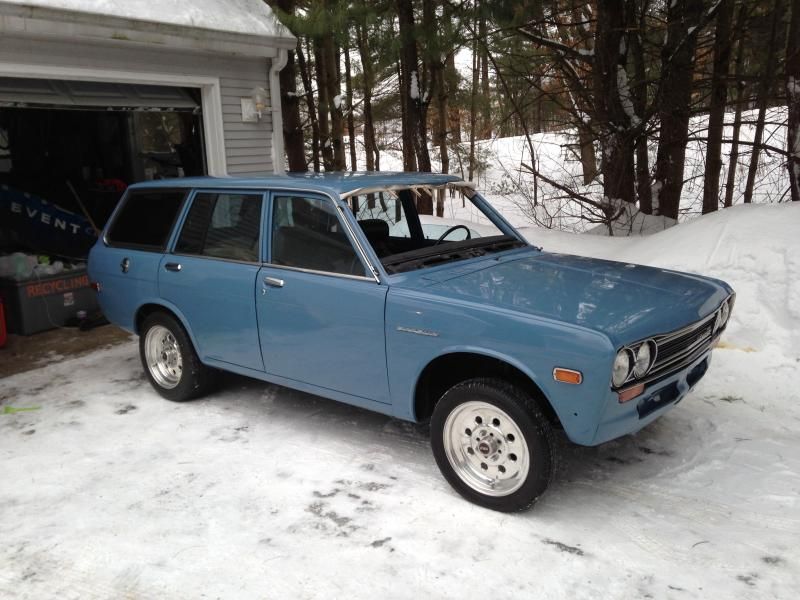 What's been done:
-Painted it- says it isn't perfect Couple drips, some chips, but damn it looks pretty good.
-New rubber in many places
-All new Emblems
-New tail lights.
-Mostly restored front suspension including color matched strut springs. (Stock I believe)
-Totally rebuilt engine, zero miles, (never started) polished and detailed. Stock L16, stock carb, stock dizzy, new coil.
-Stock redone struts. No ZX swap yet.


What needs to be done as far as I know:
- A biggy is the headliner needs to be finished. It is half way in, but the windshield is out so it can be finished. I might farm this out, as I hear it can be a pain to do them. Hell it is half way done, how much could it cost to have someone finish it off?

-The brakes need to be hooked back up, he has hard lines. But may be too pitted. I will need softlines. I think the brakes are stock.
- Brake M/C needs rebuild or replace.
- Engine needs to be finished hooking up and has not been started since rebuild.
- Carb hooked back up (stockright now)
- Need to install starter (he has it)
-Windshield needs reinstall after headliner, but it is there.
-No carpet, but that is easy enough.
-I need a bottom seat cover for the driver seat. The rest of the interior looks great. One dash crack.
-Gastank needs to be put back in. But it looks brand new. Probably need new filler hose.
- Rradiator hoses needed.
-Bumpers need reinstalled.
-Muffler there but dangling and not hooked up
What-cha guys think? Think the front wheels could be any skinnier? And though some work went into restoring the stock struts I think a ZX altitude adjustment and drop blocks may be in order.