This forum thrives on photos. People can't get enuf of 'em. Problem is, posting photos takes a little bit of geek-fu and some of the grasshoppers are having trouble with that. There's nothing wrong with the pinned "How To" but it's from 2007 and I thought I'd take a stab at the subject. Sometimes it clicks for people when they read a couple of different versions of the same material.
First, some camera basics.
#1) Use a decent camera. Doesn't have to be a $1000 DSLR. I use an Olympus SP-500UZ, which was a great little camera when it was new but it's outgunned by most modern point & shooters. The SP500 does pretty good macro work, and that's critical for taking pictures of small stuff under the hood. It also tells me where it's focusing by use of a small white box. Knowing where it's focusing saves me a lot of trips back and forth between the PC & the car. We've all seen images where the background is in perfect focus but the carburetor is a blur.
#2) It's nearly impossible to put too much light on the subject. If you're trying to take a picture of something under the hood, light 'er up. The camera can easily adjust to more light. What it can't do is make up for not enough light. Packing several lights into the work space reduces deep shadows, which is a plus.
#3) Take a bunch of shots. Some won't turn out. Better to take a dozen pics and use one than take two pics and find out they're both crap.
#4) Learn how to set the camera resolution downward. 1024X768 is more than you need for posting to the forum. 1024X768 refers to pixels per side. Compression and scaling are 2 different things. I can create a .jpg with very little data (lots of compression) and still make it large (scaling). It'd look horrible, but it can be done. Compression is one way of referring to the amount of data in the image; scaling is a way to describe how the image will display on the screen. What we're looking for on the forum is an image that's scaled appropriately (no more than 1024X768) and has enough data to be informative. My pictures have been coming in at roughly 120+KB to 200KB, which is more than necessary.
So, as mentioned in the other "How-To", go to Photobucket and sign up. Create a strong password, such as "Xc8TRQ34vd", not "qwertyu".
Play with it some before you commit yourself to posting on the forum. I haven't spent much time figuring out if there are shortcuts or whatever, so I'll just describe what I do. From the Library page, look for the "Upload" button.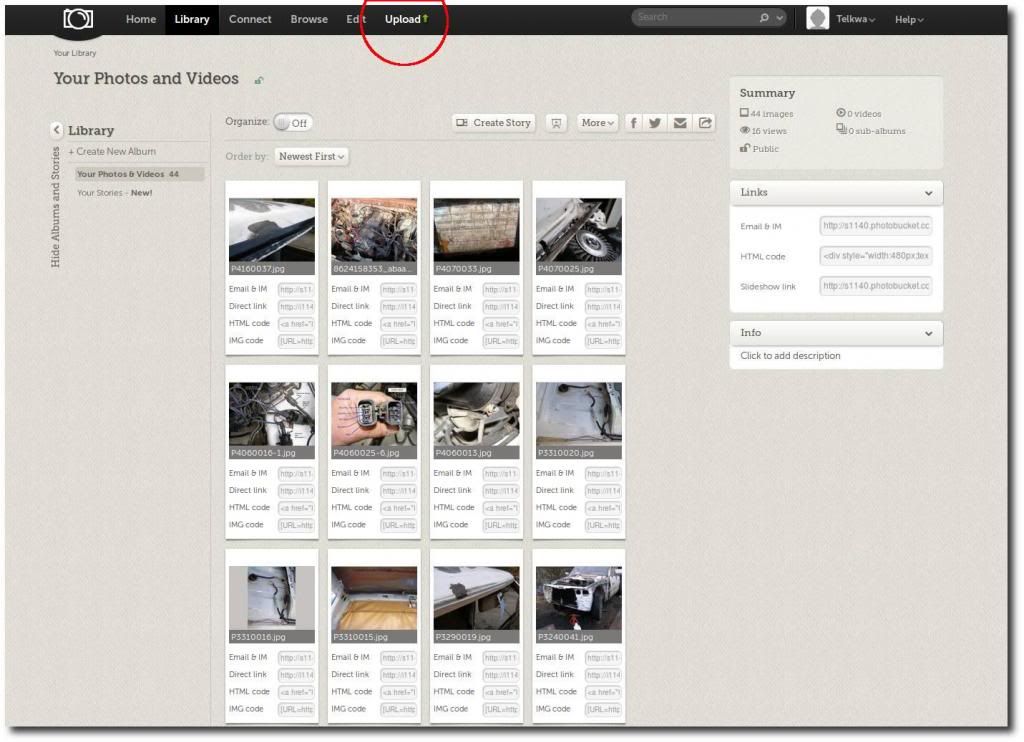 From the Upload page, the simplest thing to do is drag n drop your images from your PC. I always use the Desktop. I'll put copies of the images I want right on the Desktop instead of searching for some other folder or the camera itself.
Notice you can d'n'd' more than one image by pressing Ctrl or Shift. We're on a relatively slow satellite connection, so it takes half a minute or so to upload a few shots. You should get an animation showing progress, then a message saying something about "Success!"
Go back to your Library. The new pictures should show up there in a few seconds. If so, you've succeeded in the first major step of the process, which is uploading your data to Photobucket's servers.
So, how to successfully link the image to a Ratsun post? Start a thread. When I get to the point where I want to link a picture, I click the "Enter" button twice so that the cursor moves down one full line from the existing text.
Wait, wait - you do know how to use tabs in your web browser, right? If you're not using tabs, you gotta get with the program. I'll have the Ratsun thread up in one tab, and my Photobucket Library up in another tab. I need to be able to move smoothly from one to the other. When I'm getting close to the place where I want to link an image, I'll go to the Photobucket Library tab and grab the IMG code.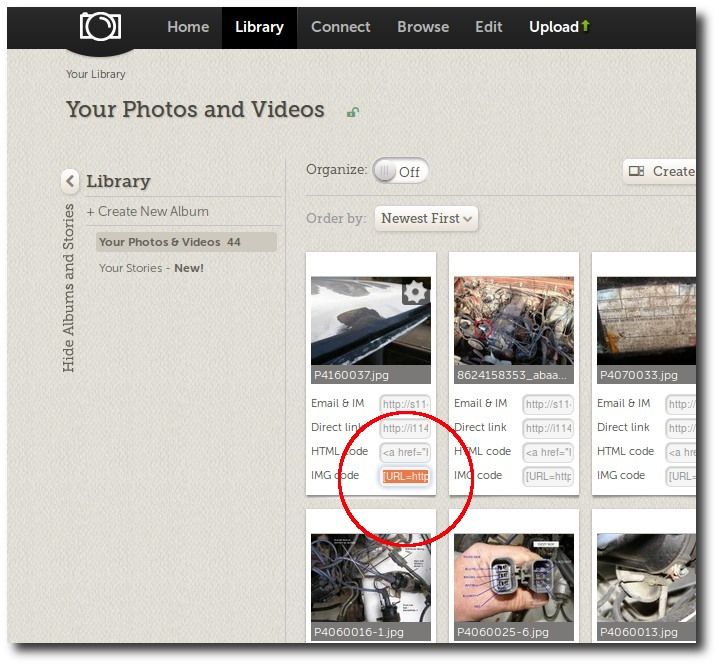 To do this, left-click on the IMG code text, which is directly under the red circle in this shot. Clicking on IMG code highlights the actual image code. See the text that's highlited in bright orange? It goes on past the little tiny window. That's the actual IMG code that you want. It will allow you to link a picture to a Ratsun thread. Right-click on the highlited code and left-click "Copy". Your PC will save the code to the clipboard.
BTW, if you're using Windows there will be subtle differences from my screenshots. Your highlited text will not be orange, for one thing. We're using Ubuntu 12.04, not Windows.
Now you've made the next major step to success. You have the actual img code saved to your clipboard. Go back to your Ratsun thread. Pick a place to link the image. As I mentioned earlier, I always hit Enter twice so that I get a line separating the text from the image, and the cursor is to the extreme left. Once you have the cursor in place, mouse up to the Link tool and click on it.
You'll get a new window. Paste the IMG code that you copied from Photobucket right into that URL window, then click "OK"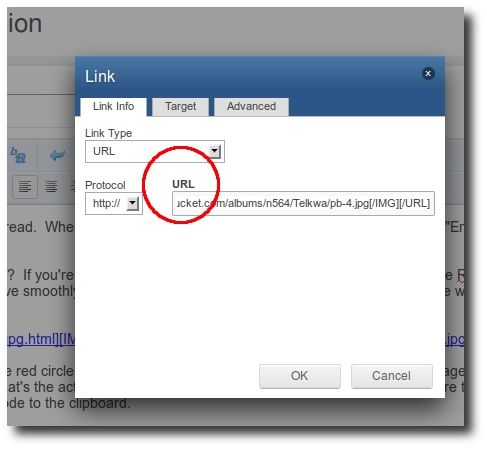 Click Enter twice again, and you can start typing. Your picture will not show up until you've submitted your post. As long as you're still working on the post, you should see this:

When you submit the post, the IMG code links should do their thing and import your images. Congratulations!
Constructive criticism is welcome; I usually miss something obvious when making a tutorial like this.
EDIT: Oh, perfect. I spend all that time and I got those goofy little bits of code next to the pictures. The universe laughs at me Ha Ha
EDIT to the EDIT: The bits of code next to the images are gone, explained below.