This is my 1977 Datsun 620 (HL620237385 manufactured in September of '77).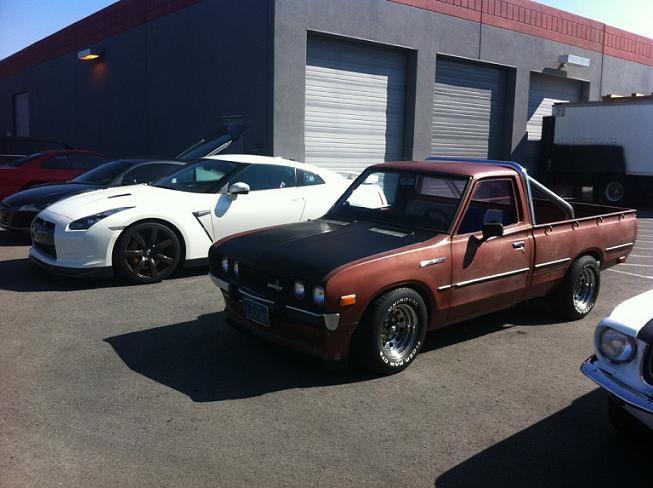 I have had it for 6 years now, and it's my first car. My dad and my uncle still have their first cars after 38 and 39 years respectively so its safe to say I'm going to keep this one forever. Although their first cars were significantly cooler: '68 Firebird 400 (my dad's) or '69 Olds 442 (my uncle's).
And how about a rather lengthy history of this Datsun? My dad and uncle bought this truck brand new from Downtown Datsun in San Jose, Ca (If you look closely you can see the Downtown Datsun track jacket on the driver seat in the picture above). They bought it to haul various things for the ice cream shops that my family owned at the time. This is going way back in South Bay history but some of you might remember Scooter's Ice Cream in Gilroy. It was off of 10th st. on the same side as the DMV across from where Guitar Center is now. They had another store in Morgan Hill, but I couldn't tell you where it was. The truck is actually still registered as a commercial vehicle.
This is what it looked like around '81-'82 sporting a nice set of Hurricanes. The black truck you can see the nose of is their friend Dan's 620. I assume this truck was the inspiration for what our truck would eventually look like.
We have always been a Datsun family. It started with my Grandma, who has had four Z's over the years including a '72 240Z, a 260Z, a 280Z, and a 280ZX Turbo Anniversary Edition. My uncle has had a few Z's including one with a 327 he swapped in. My aunt still has her maroon 280ZX with 4xx,xxx on the body parked in the garage. Sitting next to it is a '75 280Z waiting to recieve a 350TPI Camaro motor.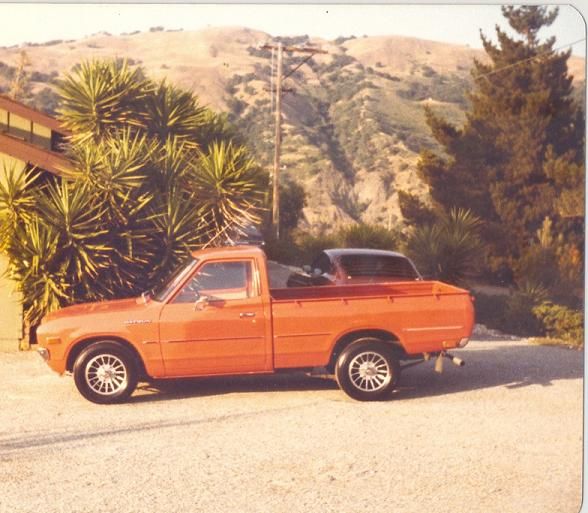 This picture is from a year or two later. By this time the truck was repainted the coppery orange that came on the 720's and wearing the same rims it wears today. I would love to have that rear sway bar but my uncle said it wouldn't work with the 2" lowering blocks that were later installed and he got rid of it. The groovy chrome roll bar was adapted from a Chevy LUV and the front spoiler you can see in the first picture was mounted.
That '73 Riviera used to tow their ski boat to Anderson and Tahoe.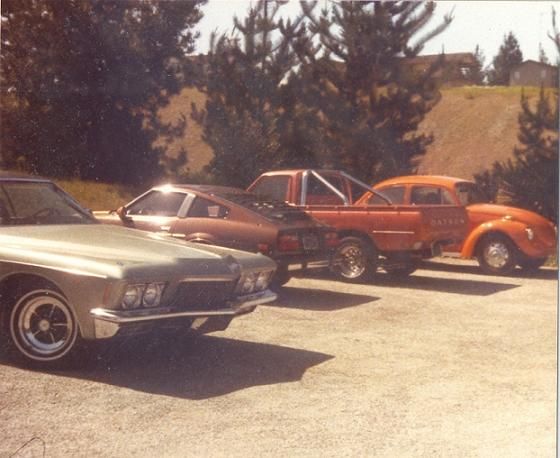 My dad sold his half to my uncle in the mid 80's for whatever reason. Not too long after that it the L20b came out and in went an imported SSS L18T with twin SUs, higher compression pistons, and a bigger cam out of a 610 Bluebird SSS. The 4-speed was swapped for a 5-speed at the same time. I wish it still had that engine... The head gasket gave out in that motor and in went a Z24 out of an '85 720. I actually still have the receipt for the motor in the glove box, its dated in '92 or '93. Circumstances at the time (mid 90's) prompted the truck to go into storage where it would sit for 10 years waiting for me.
To be continued....