9. FABRICATING REPLACEMENT GLOVEBOX
After years of having no glovebox in my sedan and having a half-finished metal replacement sitting in storage, about a year ago I decided to try fabricating a replacement glovebox out of the same cardboard that Nissan used. It turned out really well and has held up to daily use (yes, I actually use my glovebox a lot). This weekend I made a second one for my wagon, and took a few photos to share the process with you. I think it is more shallow than stock, but I've found I like the depth.
First off, here is a template (not drawn to scale) showing the dimensions and cuts required. Dashed lines indicate folds. The material is essentially a variety of matte board that I bought from an art supply store. I neglected to note what they called it, but it is an all-black material that is just under 1/16" thick. You will need to score your folds with a bone folder or a similar object to get good results.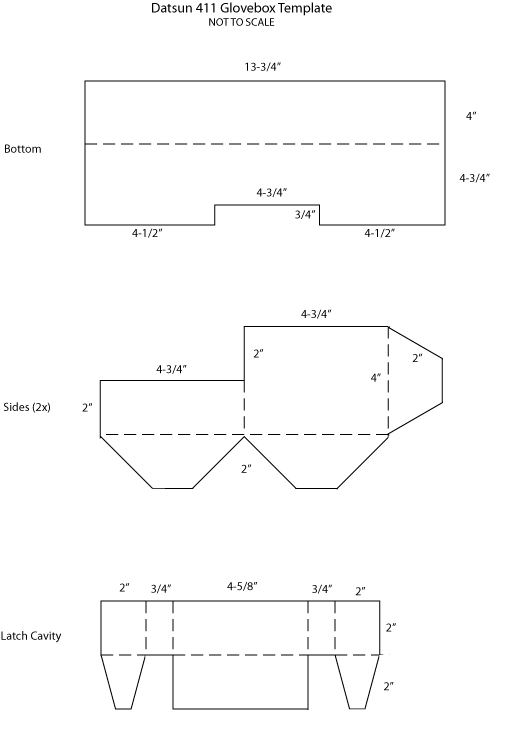 I took this photograph when most of the cutting and marking for folds was complete. A mistake I made here is not making the sides mirror images, which only matters because the two faces of the material have slightly different textures. It is a non-issue, but I would have preferred to have uniformly matching faces.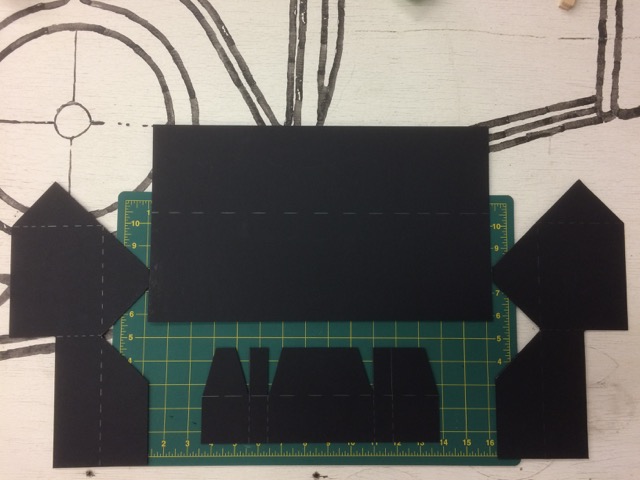 Here are the pieces with all the cuts and folds executed. The little pocket in the front of the glovebox is something that I added to provide clearance for a latching/locking mechanism. I have a rough design for such a latch, but not being sure what it will end up like, I've given it a lot of space to exist within. This added structure also dramatically stiffens the glovebox.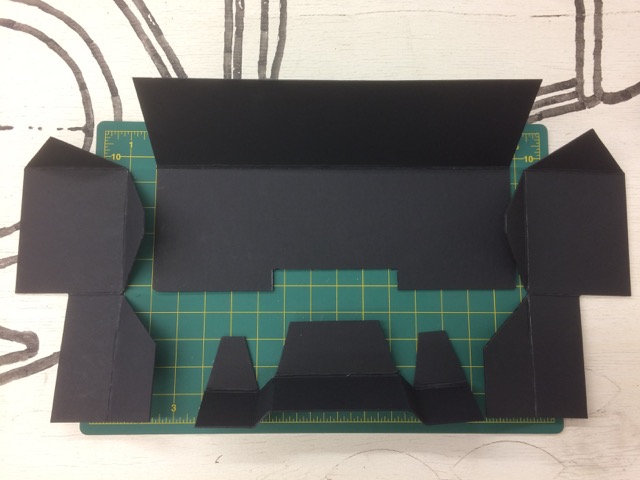 The assembled glovebox. It is held together with simple Elmer's white glue. I glued the sides to the back, first, putting uniform pressure on the surfaces being attached with a stack of metal. Then, I glued the sides to the bottom. Finally, I glued the latch box to bottom and sides simultaneously, weighing the bottom tabs and clipping the side tabs.
I located the holes by slipping the glovebox into place and tracing with a pencil. I then cut them into the heavy cardboard with a punch. Note when marking your holes that the glovebox fits snugly up against the underside of the dash. On the back, the three dash lid hinge screws hold the glovebox. On the sides, I used the original speed nuts.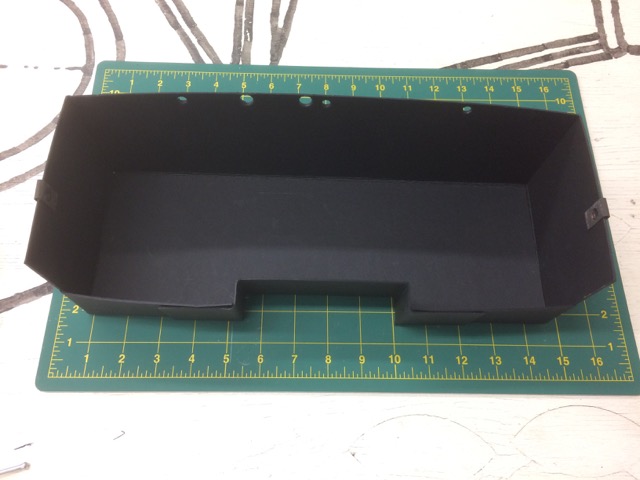 A flat black box inset in a black dash and shaded by a lid is a difficult thing to photograph, but this gives you the idea. I've never seen a 411 with the glovebox intact, so I imagine this project could be of interest to a lot of you. It provides a stock-looking, well-functioning replacement for about $3 and a couple hours work. Pretty good return on investment.