Disclaimer
If you burn your shop down or give yourself carbon monoxide poisoning, dont blame me. I cannot take credit for this idea or design. I just decided to try what others have done, since I am tired of freezing my ass off in my hollow brick shop with no insulation. And my bridgeport is starting to rust.
This is also a scaled down model since I had everything to make it this size and nothing to make it bigger. What is it? A waste oil heater, that runs on dirty old motor oil. And after some tuning ( with more yet) it works pretty good.
I started with an old freon bottle that I used as an air tank for a very long time. Cut a hole for the door and one for the chimney.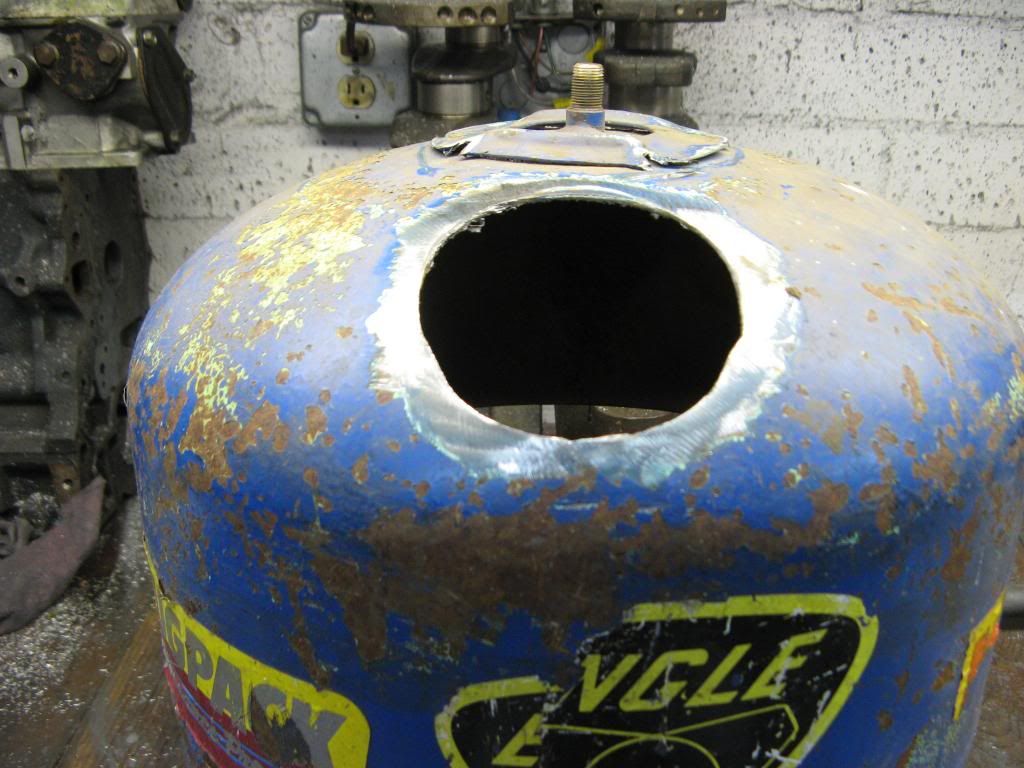 Most of the ones i've seen use a 6 inch chimney, a 4 inch intake, and an 8 inch burner. Mine is half that, almost. 3" chimney, 1.75" intake, and a 4" burner.
Next cut a hole for the intake. I made mine adjustable since I have no idea where is should be in relation to the burner. And then weld a pipe bung on the top and drill it through. This is where the copper tube from the oil tank enters the intake.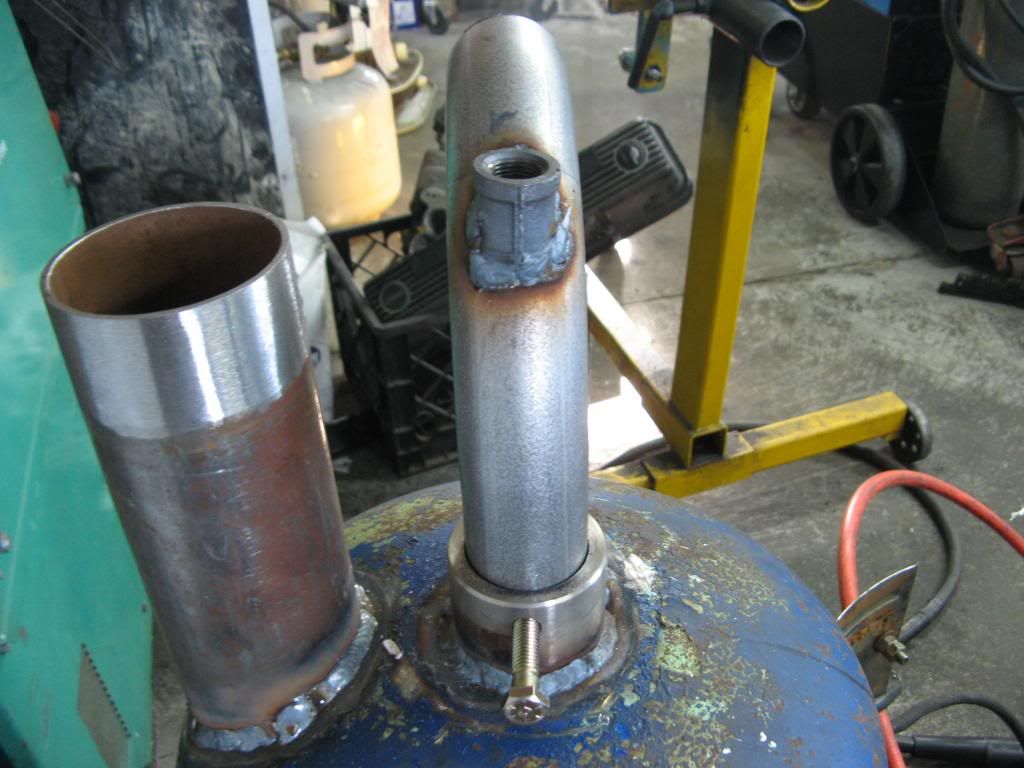 My first burner was 1/4 wall pipe. 4" x 2" with a 1/4 base welded together. I later made it 4"x 4".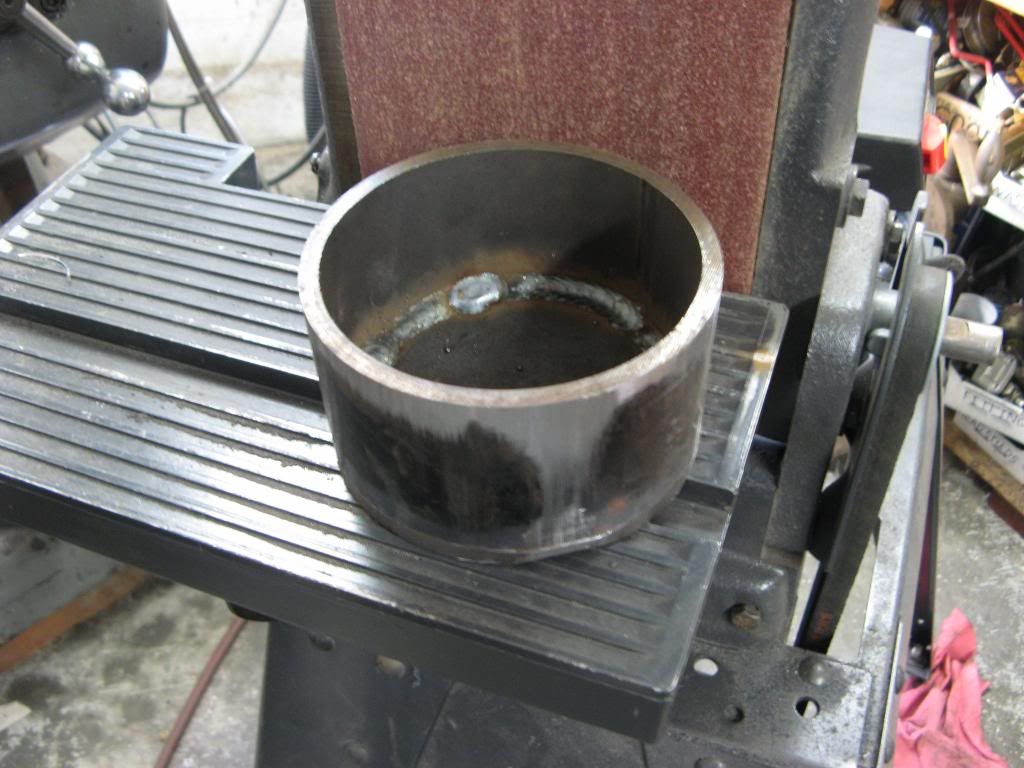 The door I made turned out to be my weak link. I should have made it more airtight. But it works.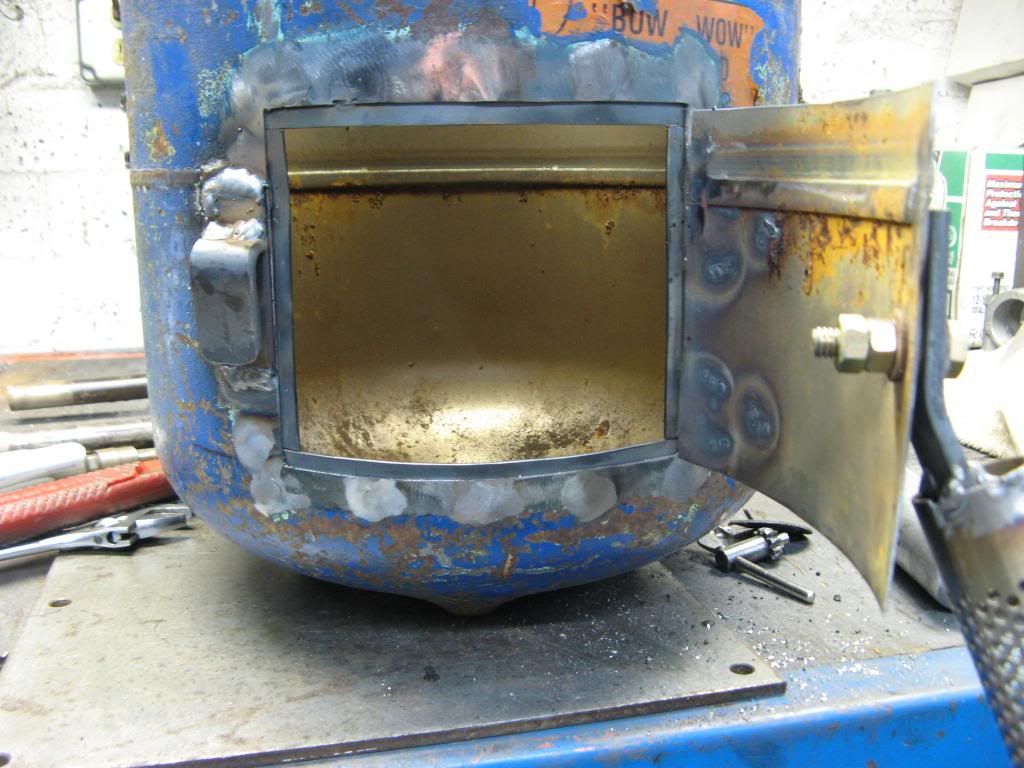 The handle is a part I made at work, then the mill guys drilled the holes in the wrong place.
Next put ten or so 3" bolts flat in the bottom of the burner, 5 one way, and 5 the other on top. Insert the oil feed line through a fitting and down the intake tube, and position it 2" Above the bottom of the intake tube. Time for a test run
Pour a half inch of kerosene in the burner, and put some paper in the back to start the draft. Light it all with a propane torch, close the door, and start the drip.
I started with a needle valve, but went to a ball valve. Also put a bit of clear tubing in the line as a sight glass for flow. For mine, a drip a second works pretty good.
Here it is in the shop, mounted on the best stand I could think of. And later put a 280zx turbo fan in the intake tube.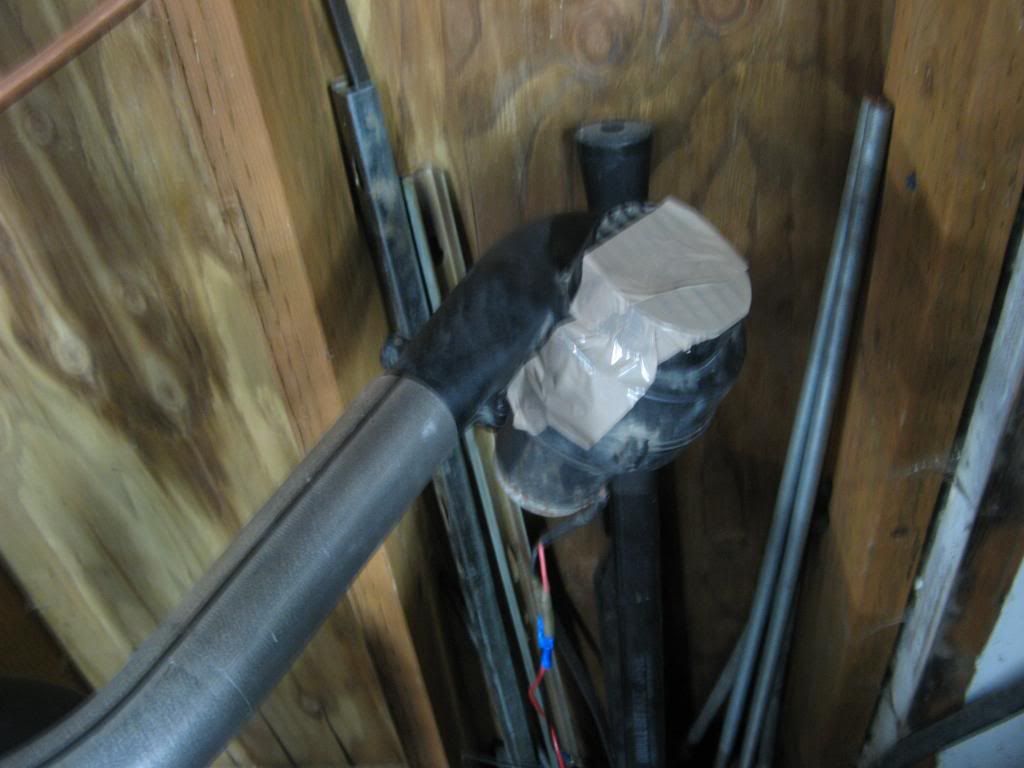 I had to block the intake as it is a bit too much. More tuning needed.
This is the first burner.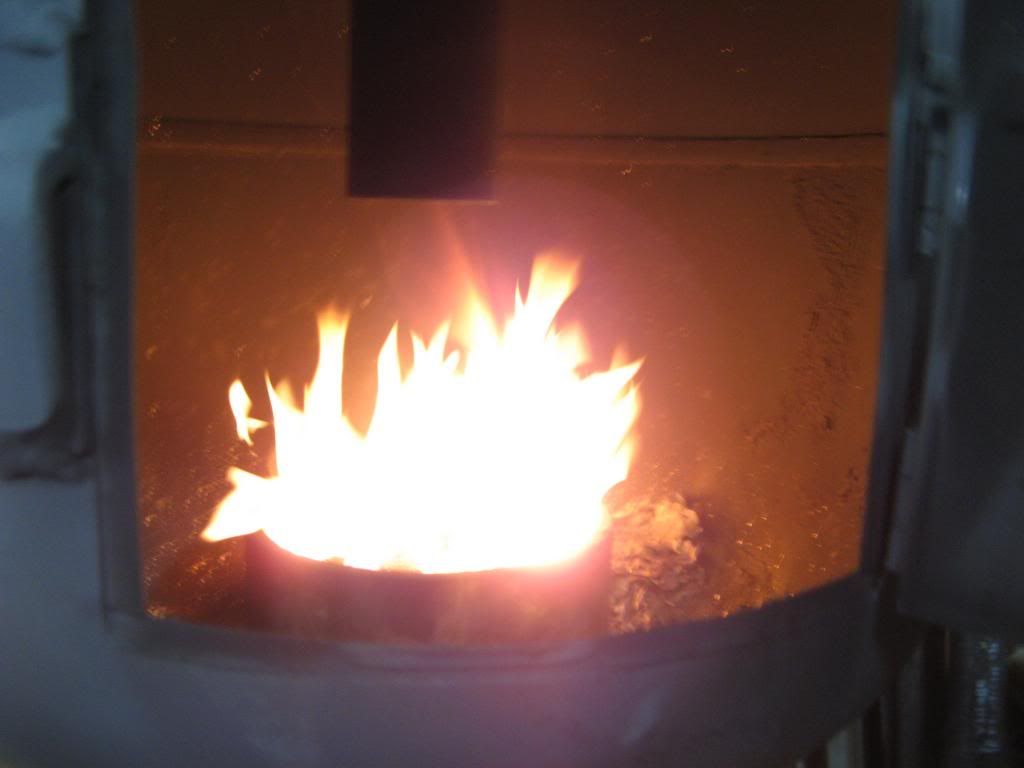 And this is the second.
Big difference.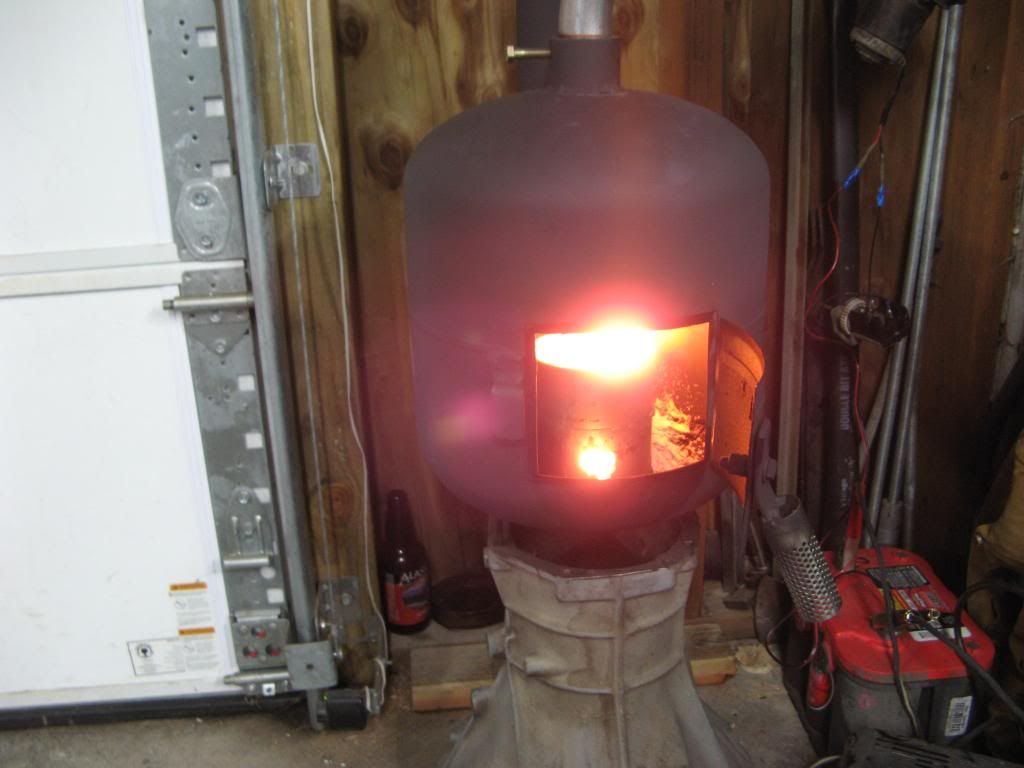 I ran it for 7 hrs today wide open. ( as hard as I can without it leaking out the door) and it only went through 2 3/4 inches in the bucket. I would guess about 3 qts. I started at the sharpee line above the sticker.
It burns really clean with the fan on and a light drip. But get damn near glowing when you turn it up. A lot like tuning a carb. My shop is warm enough to work in and drying out finally. And now I dont have to try to figure out what to do with 15 gallons of dead motor oil.
Buyer beware, dont hurt yourself. I will post up changes as they happen.