Replace your points-based distributor with a
High Energy electronic ignition
using the 1979-up USA Datsun factory "matchbox" distributor. This is the
Hitachi D4K distributor
for four-cylinder engines and
Hitachi D6K
for six-cylinder engines. D4K or D6K is stamped on the distributor body.
Easy:
* 2-wire hookup
Reliable:
* Large cap for less chance of crossfiring
* genuine Nissan/Hitachi ignition control modules last 30+ years
* No more replacing of you points & condensor on scheduled 12 months/15000 miles.
Inexpensive:
* $40 at
Pick-n-Pull
without cap/rotor/coil
* $75 to $125 at traditional wreckers
* $125 distributor with cheap module at RockAuto.com
Alternatives:
* See
Electronic Ignitions For L motors (4 cyl.)
or
Electronic Ignition for A motors
D4K "matchbox" distributor for L-series engines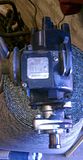 D4K "matchbox" distributor for A-series engines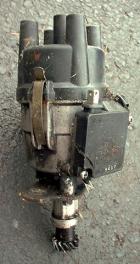 NOTE: Earlier factory Datsun systems used a "remote ignitor" system (Hitachi D4F). The Matchbox discussed here is a cleaner setup using only two wires and no external box. If you really want to the use the 1974-1978 system, use the search box.
ITEMS NEEDED
------------
Be sure to get
* Distributor with module attached
* Matching coil (optional, but recommended)
* T-shaped Connector with two wires (at least a few inches of the wire)
* External condensor (optional to reduce AM radio interference)
For L-series engines (L16/L18/L20B or L24) also get:
* Matching distributor Support Base (pedestal)
* Matching timing plate
IMPORTANT: These are similar but different to non-Matchbox distributors. With the matching items, the swap is very easy. Without the matching items, you will need to do additional modifications.
USED DISTRIBUTORS
-----------------
If buying used, there are two things to watch out for:
* Advance plate bearing gone bad
* Vacuum advance canister not holding vacuum
CAUTION: These often go bad after 20 years. Inspect carefully before buying. The good news is the electronics almost never go bad!
IDENTIFICATION
--------------
Look for the matchbox bolted to the side of the distributor.
Look on the distributor body. The type is stamped on it: (e.g. D410, D4K, D4F, D4N etc). D4K or D6K is the matchbox type. Wipe away the grease to see the stamped numbers.

It also has the Nissan part number (starts with 22100).
INSTALLATION
------------
Rotate engine to the timing mark. Remove the cap & note where rotor is pointing. If it is pointing to the #4 spark plug wire, rotate engine one more turn. This is TDC for #1 cylinder
Remove old distributor, Insert new distributor. Rotate the housing to align the teeth of the new distributor. Ensure rotor is pointing to the #1 position on the cap.
On the L-series engine, you must ensure the matchbox unit is not facing the exhaust manifold. Overheating is a sure way to cook the box. By using the matching Support Pedestal and timing plate it will fit in the correct way.
WIRING
------
2-wires attach to the Matchbox distributor. Connect:
* Black/white wire to 12V side of ballast resistor (the side not directly connected to the coil)
* Blue wire to coil negative terminal
That's it!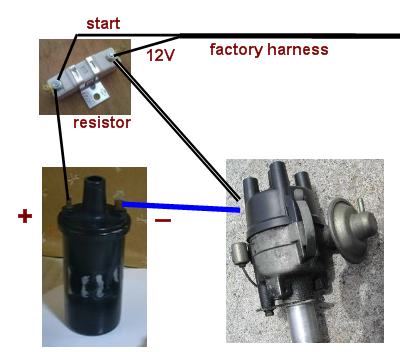 The condensor is optional, it is to reduce radio interference. One end goes to coil+, the other to ground.
Optional (but highly recommended) is to run a dedicated ground wire from the body of the distributor to bare engine metal (such as to a timing cover bolt).
HIGH ENERGY COIL WIRING
If you got the matching high-energy coil, then you can jump the ballast resistor (connect a 14 gauge wire across both terminals of the resistor) to enable high-energy mode.
Alternatively you can remove the Ballast Resistor and connect all three wires together.
CAP & ROTOR
-----------
You can re-use your 1975-1978 distributor Cap & Rotor (75mm inside diameter). For older distributors with 70mm cap, get the matching used Cap & Rotor for the Matchbox system. You can buy new, but genuine Nissan 75mm cap & rotor almost never go bad.
Also see:
Matchbox four-cylinder Cap & Rotor Part Numbers
Matchbox D4K uses the same 75mm cap as earlier D4A/D4F distributors.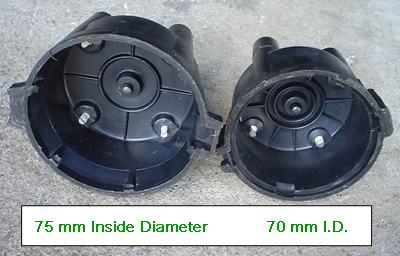 The smaller cap is used by 1960s/early 1970s distributors (e.g. D40, D411 and D412).
PARTS
-----
Should you need them, see
Hitachi D4K distributor PARTS
for four-cylinder engines
SPARK PLUG GAP
--------------
Matchbox with its matching coil works fine with points-type spark plug gap (.031 to .035 inch), but also can reliably fire larger gaps -- which fire lean mixtures better. Use 0.039 to 0.43 reliably for all Datsun engines. Higher gaps are possible (see the late model repair manual for specific recommendations which work with certain engines).
If using a points coil with a resistor, set the gap to 0.35 inch.