So, after 100 or so posts, I realized that I have not introduced myself, nor I have I really posted any pictures of my project, soooo....
My name is William. I am a 30 year old Iraqi War Vet, who got injured in Iraq. It didn't stop me from being the best I could be, and I would probably still be in the Army, but the injury prevented me from any further promotion(s) (I got to SGT E-5), so I was medically retired from service. I came back home to California and started back working on my 4 door 610. My father bought the 610 back in 1981, and I got it when I was 14. Drove the crap out of it, parked it, and tried to figure out it's fate. Now the idea is to go for a retro-restore: L20B with sidedraft SUs, 4 speed automatic transmission, and some modern creature comforts like Infiniti G20 seats. It's a slow process, but it's coming along.
Some Pics: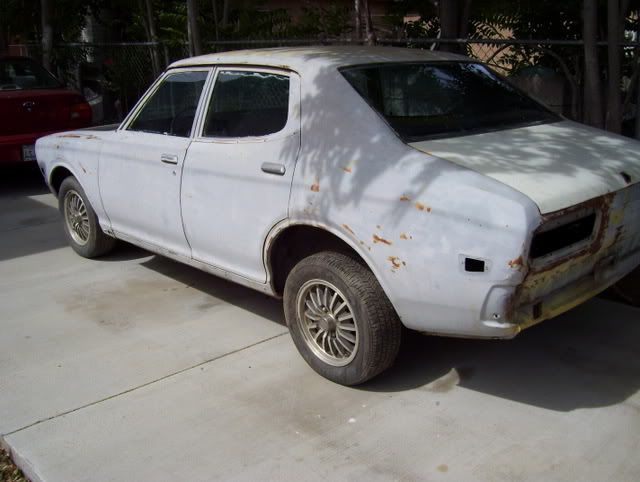 I put in the stock springs from my parts car, as the ones that I had from High school were just too low, no real room in the fenderwell if I was to take passengers)but this Super Swamper look had to go. It scared Geo Metros (I could fit one in the wheelwell):eek:
I put a couple hours in on her yesterday, cut some springs the old fashioned way, and got the drop I was looking for, just enough to see over the top of the rear tire.
It has some blown shocks, so I figure the new shocks will give me some height back (a 1/4 inch or so)
She's staged to go to my friend's house for bodywork sometime next week. I will be getting over there from time to time to get more updated shots.