Sorry, long ass post. It's the story of my 510, I put as many pics as I could
So after owning my z for 2 years and my 720 for about a year and actually the mazda for half a year or so too, I decided I needed something practical, I got a little tired of only having 2 seaters. So my excuse for a practical reliable daily? a 510! specifically a 4-door. So the search began and went to go see the first one i found on the local craigslist
Brought it home a few days later for $2500 which is a bit high but 510's arent as common as z's around here and i justified it by the suspension and drivetrain in this one, it had poly bushings all around, coilovers in front, stiffer shocks and springs in the back and z 5-speed. All of which had been done (allegedly) by Troy Ermish over in Fremont for a total of $2800. Plus it had knock off racing seats, a cheap-o racing wheel (which are both actually pretty good) an L18 with a weber downdraft, newer clutch, "subi LSD" (I haven't confirmed yet and it doesnt seem to act like one), 2.5 inch exhaust with a flowmaster muffler and electronic ignition. I'm sure some of you have scored better deals but the way I like to think of it is that I didn't get the worst deal on a 510 in the world AND I now had a 510 which was a bit of a lightweight pipe dream for me (after an s30 and a kpgc10, one of which had already happened and the other....well lets be honest, i work at a grocery store...)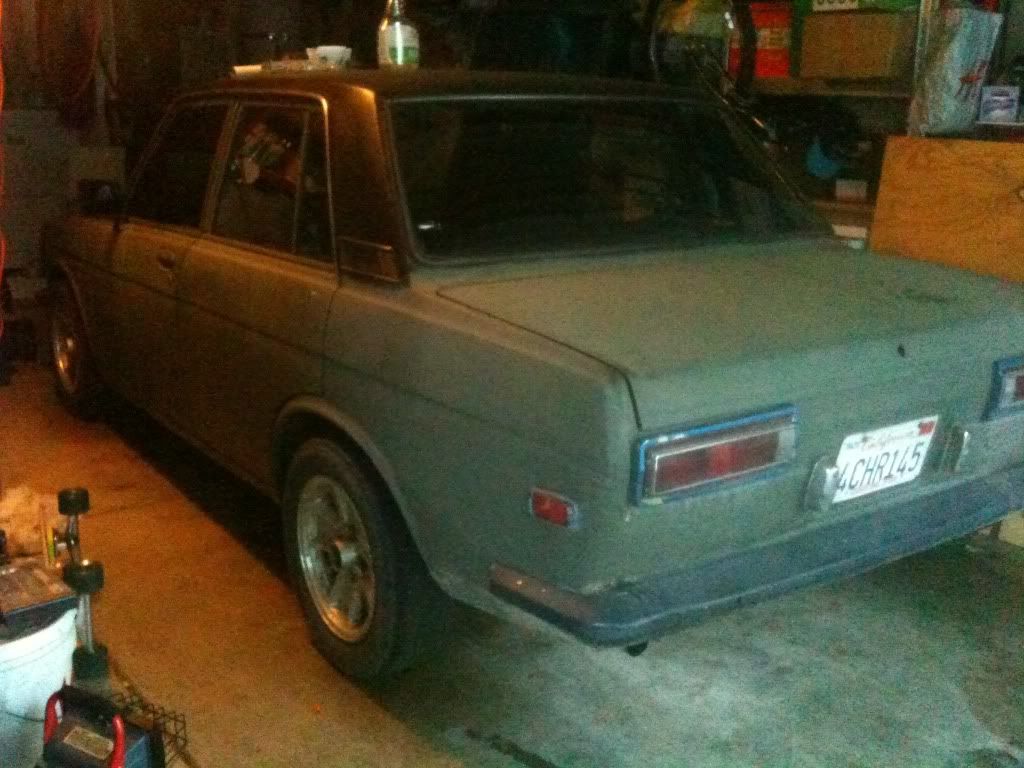 When I brought it home i threw a pair of stickers I had lying in my room forever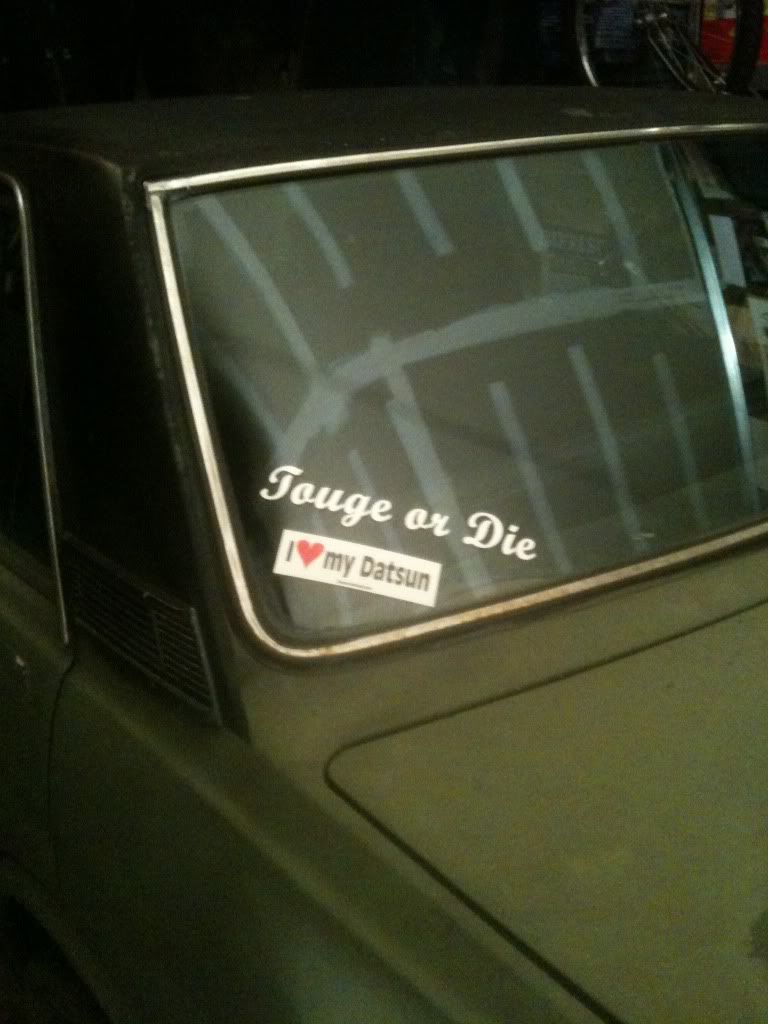 Then I liked the sticker-y look. I know a lot of people think its super ricey but that's kind of why I like it. Because its sorta rice, but on an old school car. I don't know, I have strange taste haha, but I like the idea of bridging the gap between rice and old school. Long story short, I ordered more stickers
I did intentionally avoid brand stickers (like sponsor logos) on anything I didnt actually buy parts from for this car. That's tacky in my head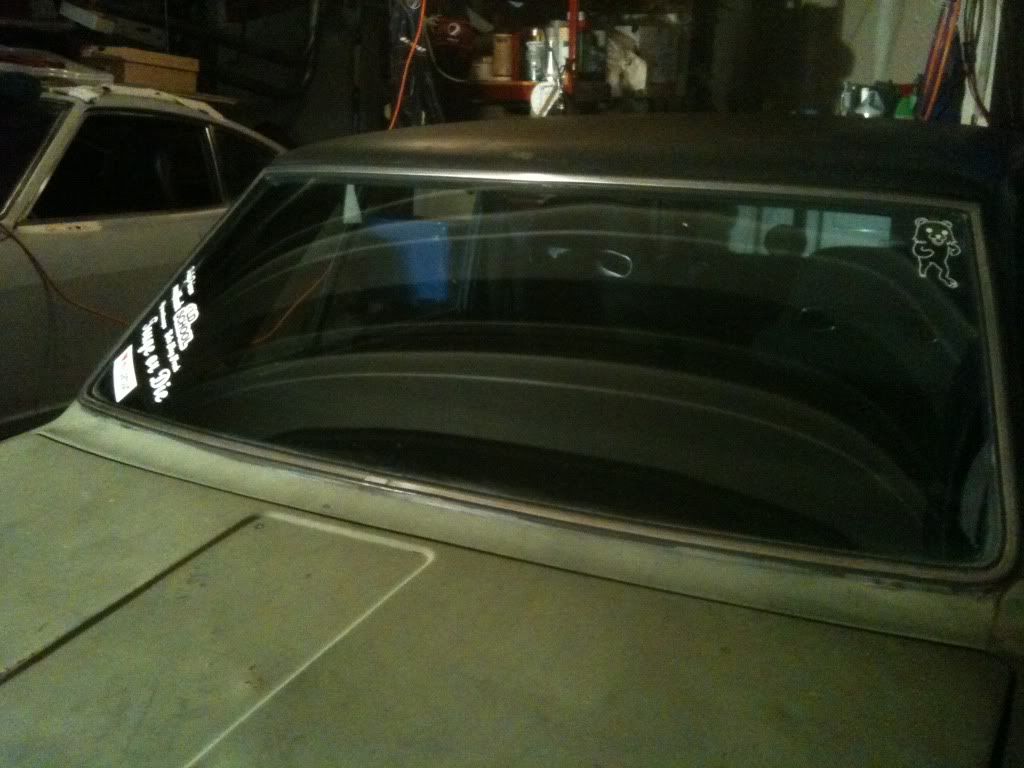 Then about a month later, I got a fix it ticket for "excessive smoke" the cop said he used to have a 510 and that they were great cars. He seemed like he might be reasonable until he walked back with a ticket. Anyway, we (this like all my cars is a father son build, anytime i say we i'm reffering to me and my dad) determined it was a blown head gasket. we went about pulling the head off and ordering the new gaskets and such. When we had the head pressure tested we found that the cause of the blown gasket was from overheating due to one of the coolant journals corroding away into the #3 exhaust port. Basically my coolant was just burning up in my exhaust till I had no coolant left and I got overheating.
PnP head was no good, I still have a store credit there from returning it.
Ended up buying a closed chamber A87 head from Mario (71Dimer), I didnt meet him personally, my dad was the only one that had time to get down to santa clara.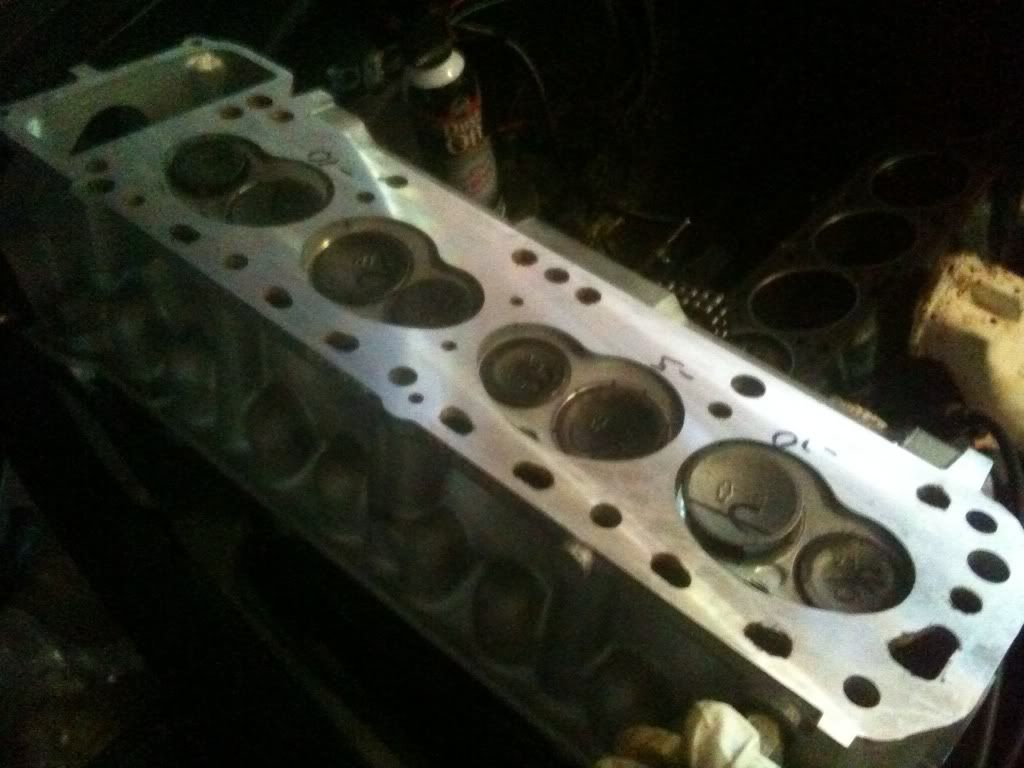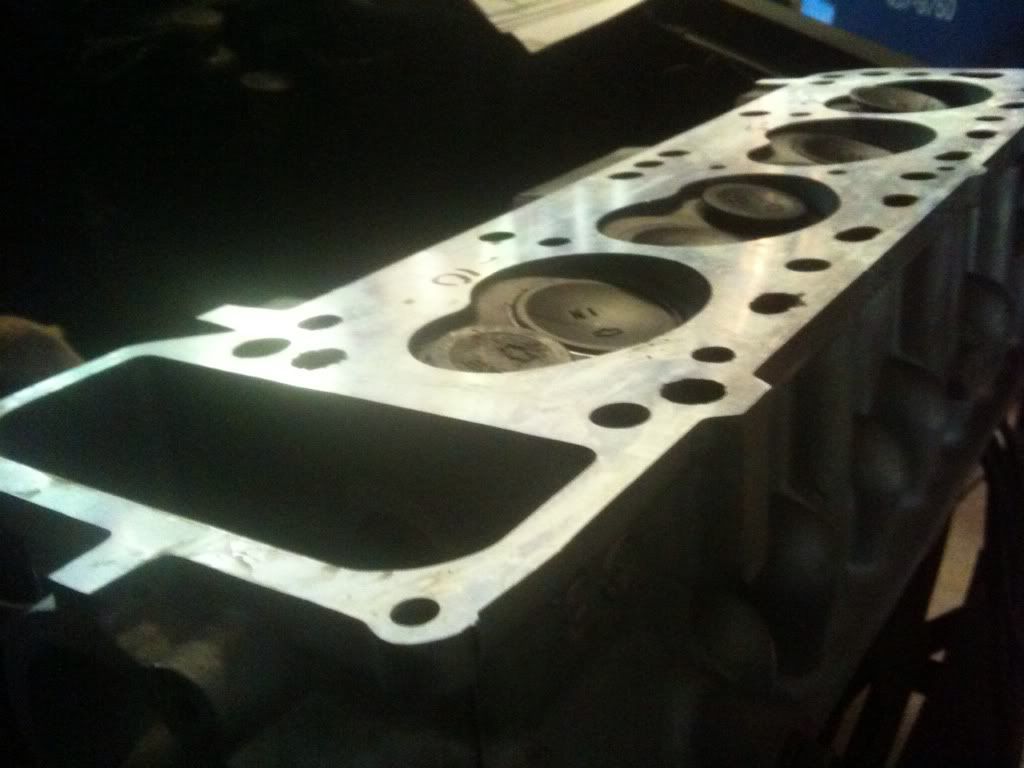 I just thought the newly resurfaced closed chamber head looked cool so I took a pic haha
It ended up taking a month of down time just for a blown head gasket and a bad head because can only get to the car once every 5-7 days...so needless to say I was ecstatic when I got to drive the 510 again. So excited in fact that I couldn't wait to put the grill on before driving it.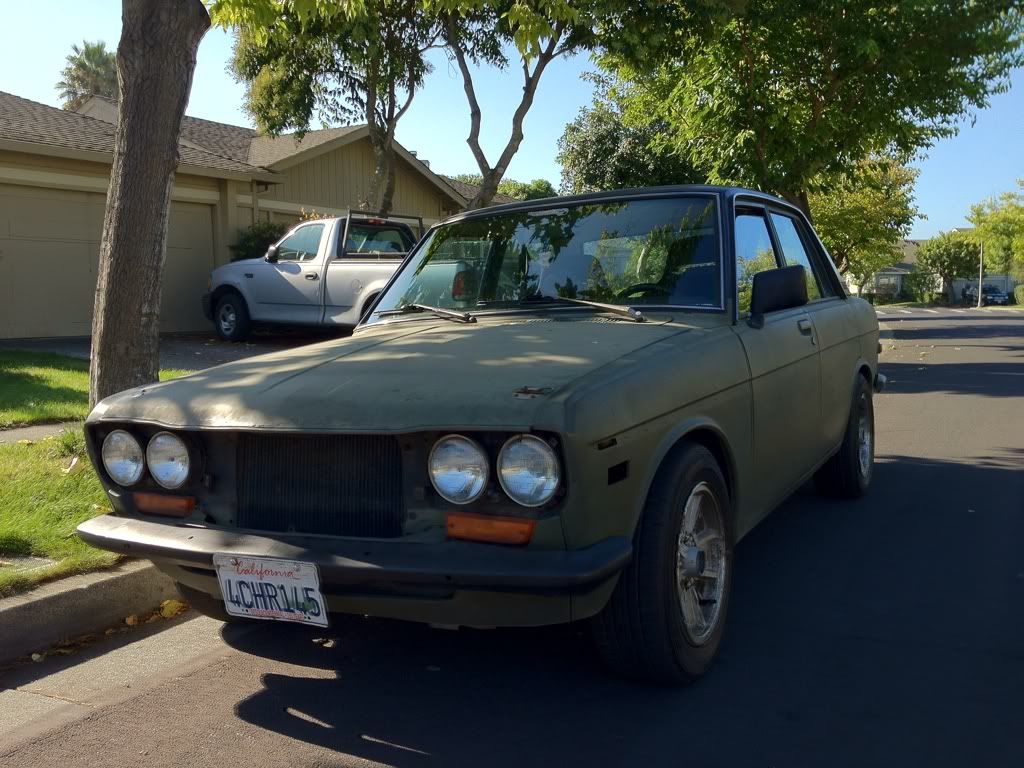 Drove it like that for a few months until I decided it was time the brakes were just too sketchy (super soft/unadjusted the parking brake didnt work at all and it took forever to stop the car) so I ordered new everything but just stock replacements to save on cost and downtime. Sorry no oics of the replaced brakes but I only ended up doing the backs because the fronts looked to be in good shape still and they just looked like drums that were clean haha. I learned after about 3 weeks that lug nut torque settings are very important...
again, sadly no oics, but it was 65 or 70 mph on the freeway, mid day, plenty of cars on the road, and my driver side rear wheel flies off my car taking the new drum with it. I was riding on the backing plate like it was a ski (probably throwing sparks behind me) and my wheel proceeded to (allegedly) hit 8 other cars, 3 made claims: an 06 mitsu 4x4 no biggie, an 05 mustang (gt?) getting pricey, and a 2012 audi s4....fuck...luckily my insurance covered it but i do believe my rates are higher now. worst part was my manager drove by and honked at me and gave me a thumbs up as he drove past my tripod of a 510 haha.
Decided, why replace stock brakes twice? so when I saw a 280zx rear disc, caliper, brackets, pads and hardware kit on CL for $150 I went for it. After a lot of struggling with a rusted out suspension and ordering the wrong length custom brake lines...twice (my bad
) I had 79-81 zx rears with stainless steel lines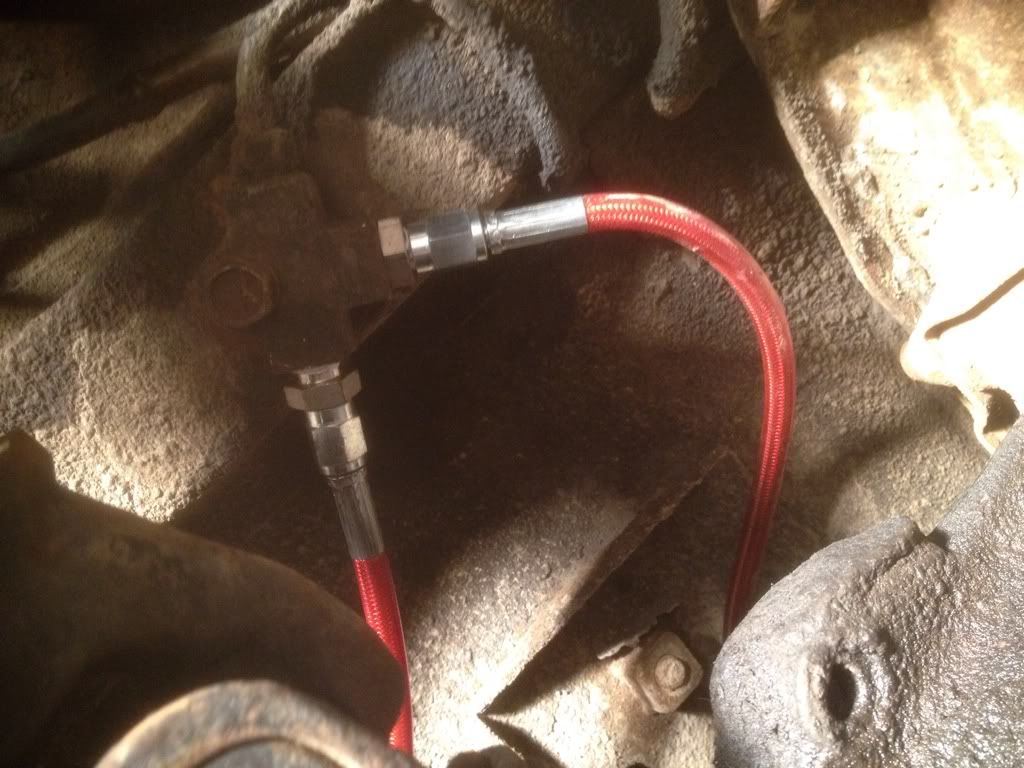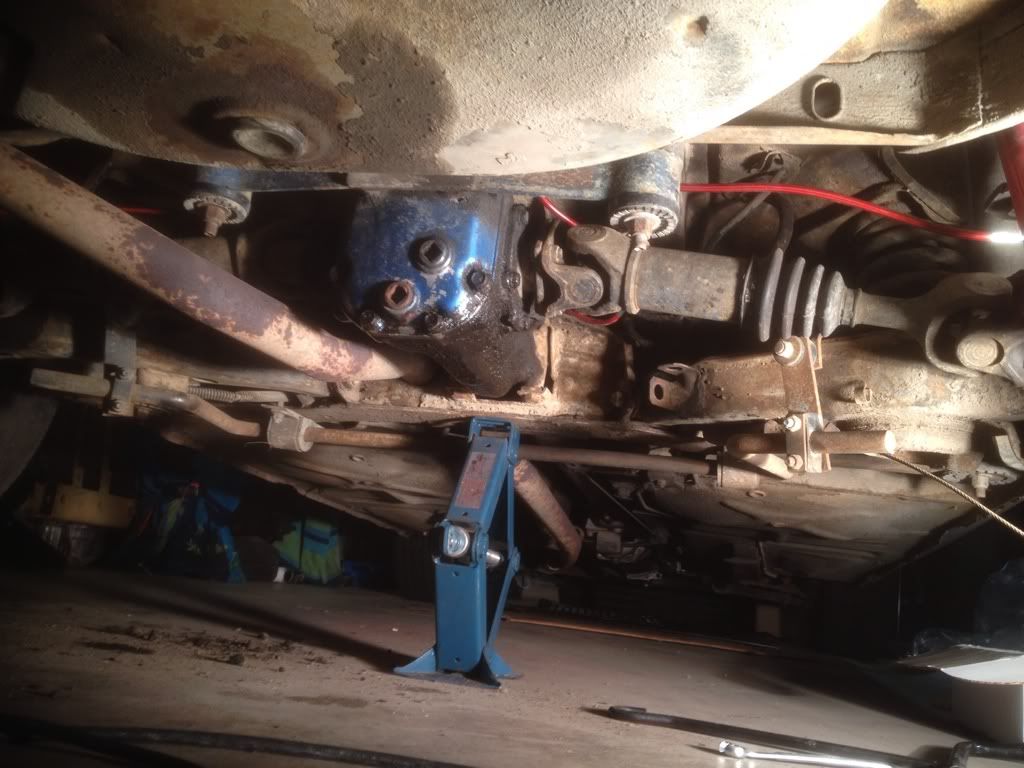 Got that fixed, drove it for a while (found out zx rear brakes dont fit 13 inch rims) and eventually got my new wheels I had bought to replace the one I lost seeing as how this is what it looked like after the incident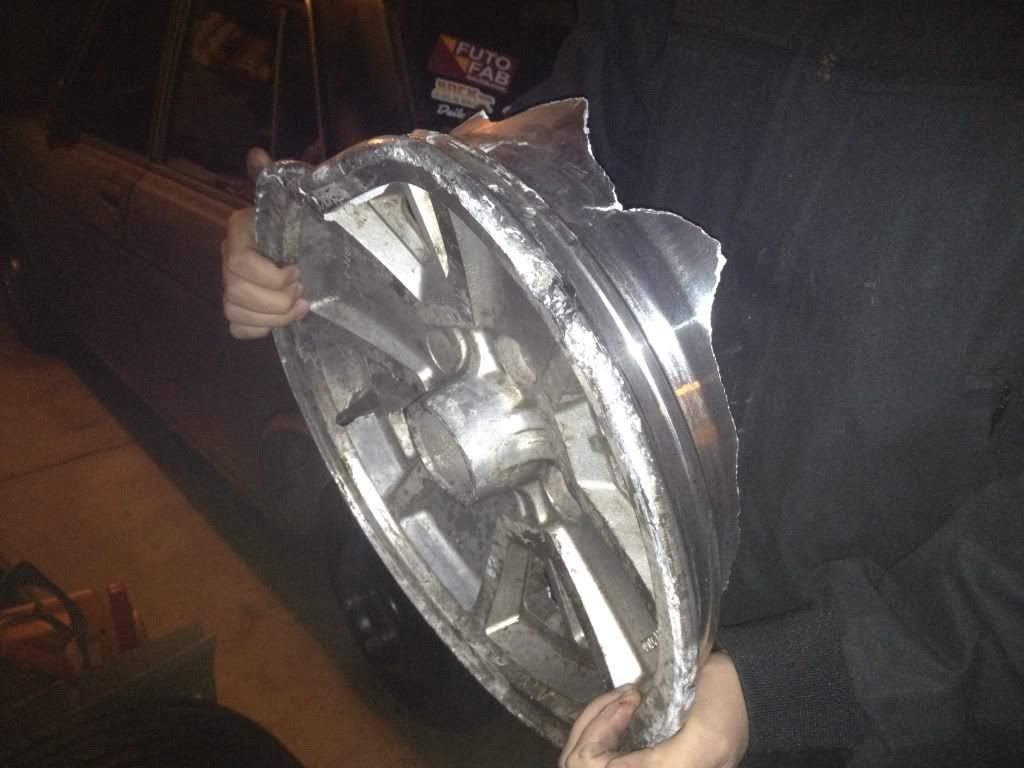 Then decided to paint my new wheels black. I tried out the plasti dip spray. I like it a lot, you have to do thin coats though, at least I did. I went too think and it bubbled on one wheel. And you have to be careful with the lugnuts to not tear the rubber. I dont think i have enough coats though. I suspect regular spray is probably better but I like this because its easily removable.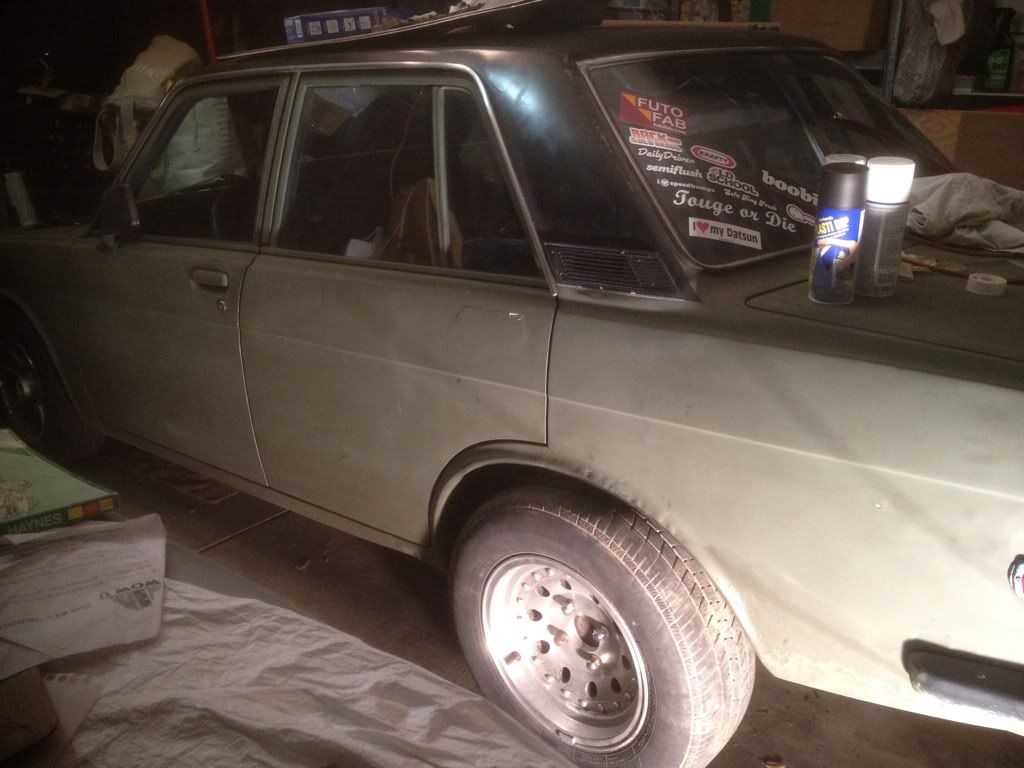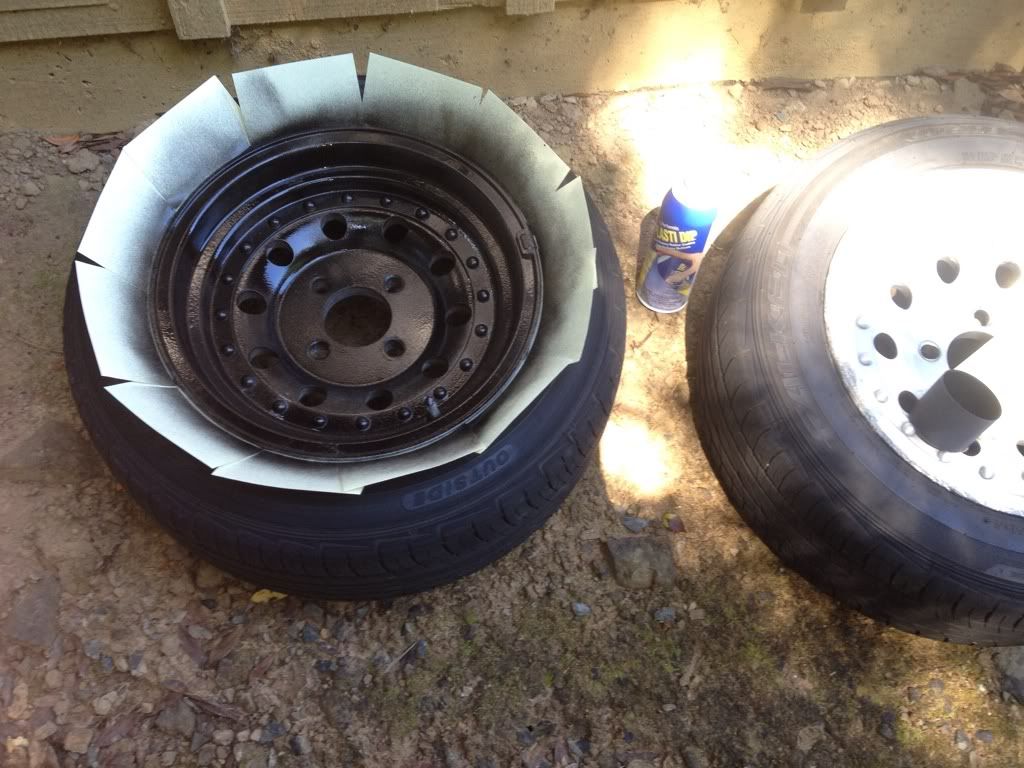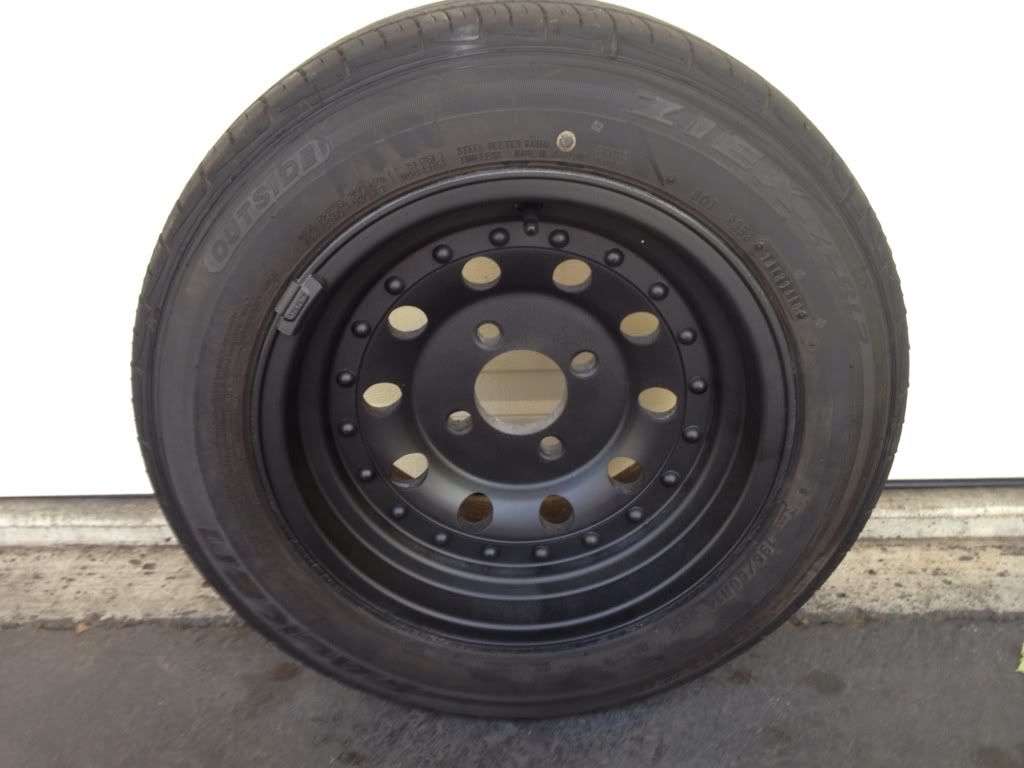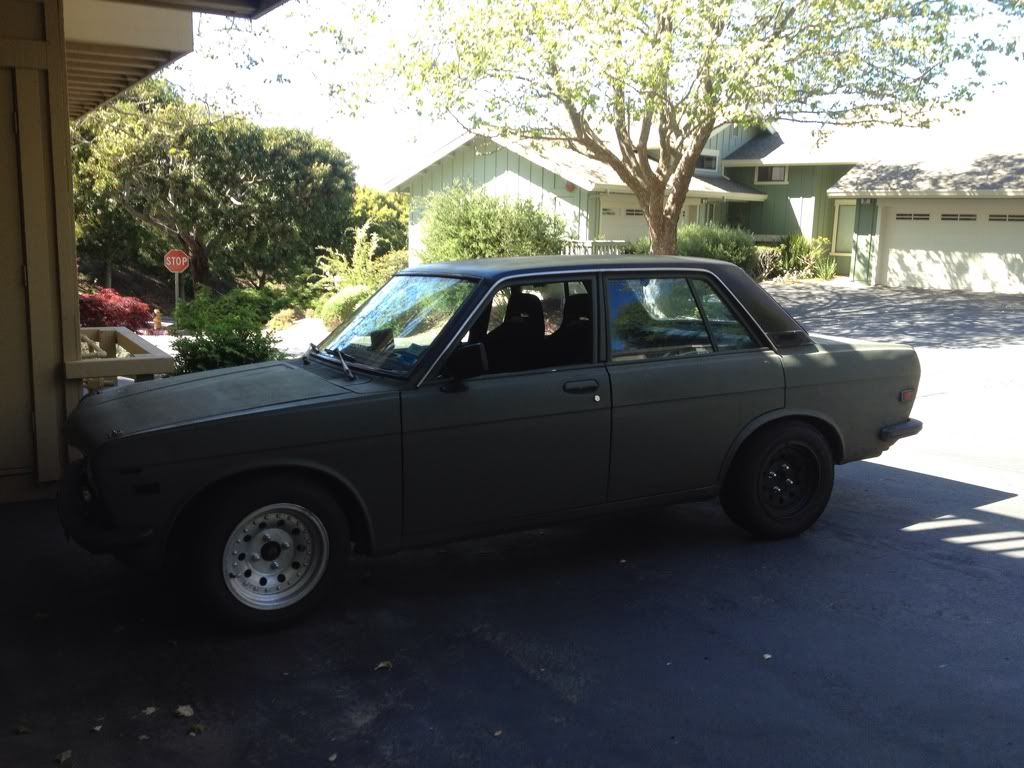 No pics of all four black yet sorry.
And Just last weekend I was feeling productive and I stole the engine bay lamp from my Z, Which i think is super cool haha.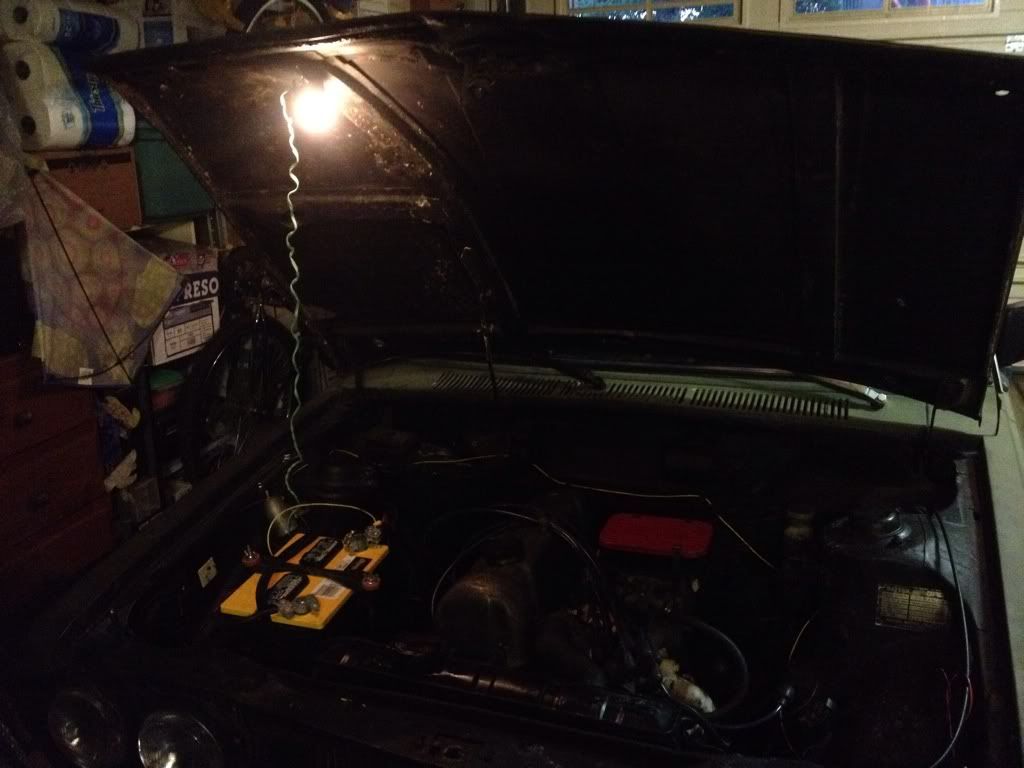 Also I put 5000k HID's in my outboard headlights. Theyre wired to a separate switch though so they're technically my hi beams. and started the teardown to replace my loose timing chain.
Got in there to find mayhem...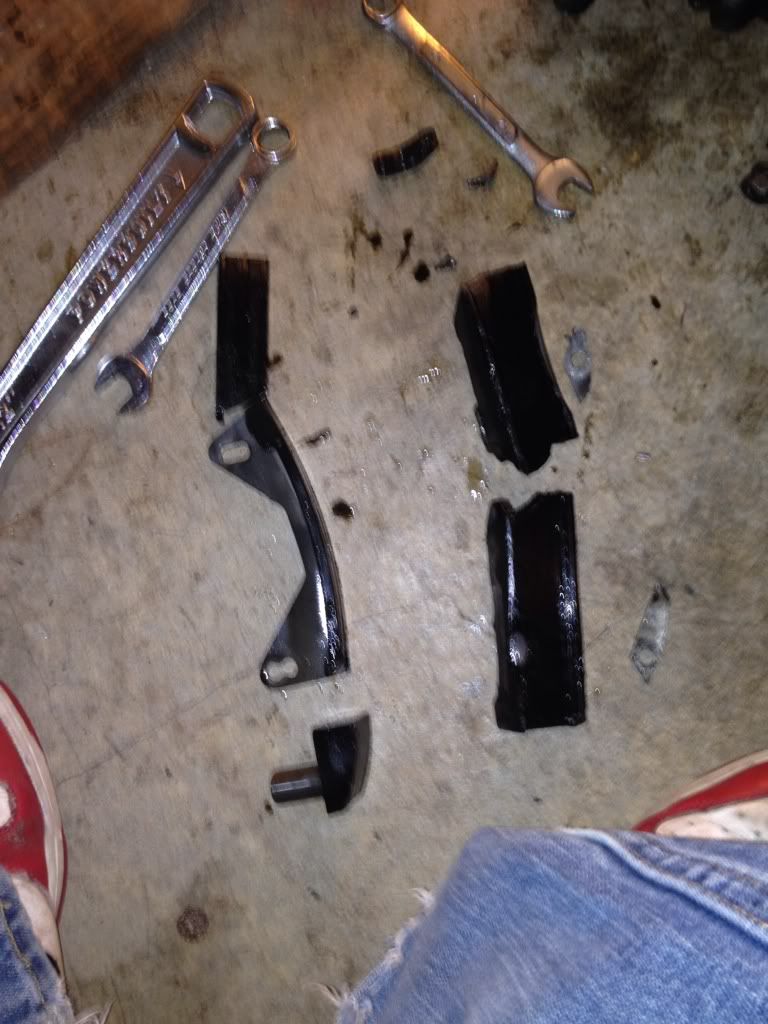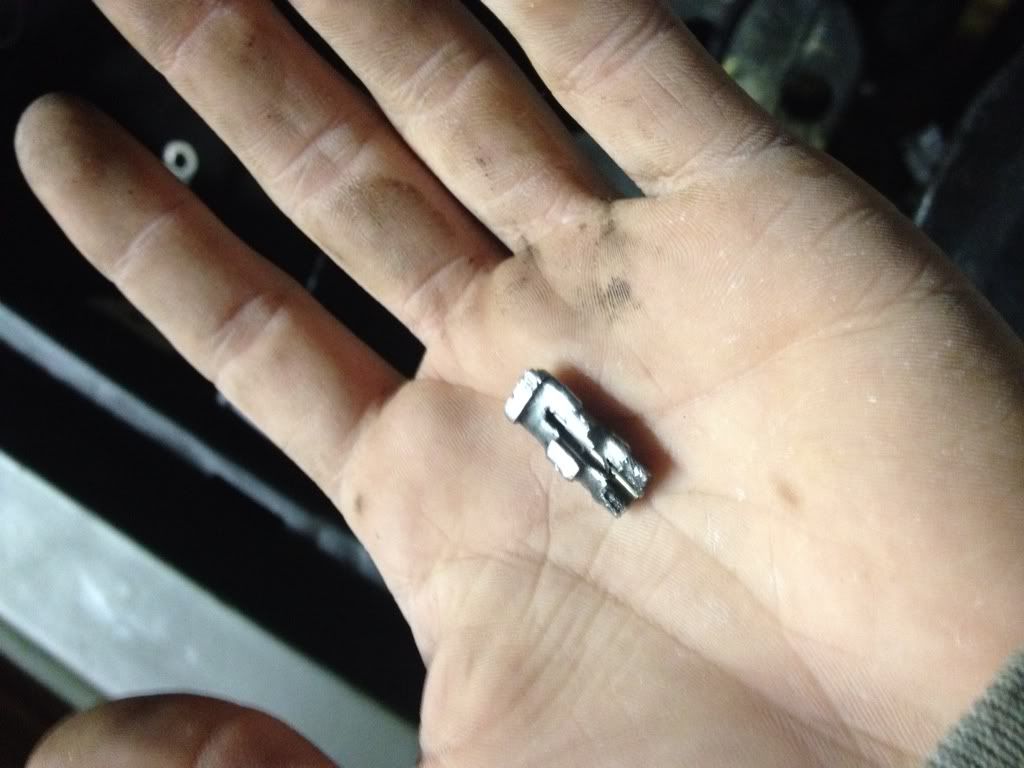 I had thought I could get away with not replacing the chain guides until we pulled the timing cover off. Thats how it sits now, waiting for chain guide and new motor mounts (mine literally fell apart).
Things I did but werent really important for the story of my car; autometer tach, cheap-o $5 tripple gauge pod for amps, water temp and oil pressure, custom faux leather rear window sill, halogens in my lo-beams, ford focus center console (HAS CUPHOLDERS!!!), crown royal shift boot, a few more stickers
and a BRE 510 christmas tree ornament hanging from the dome light. its my chandalier
Why he's named Steve Jr. AKA Junior? My old 720 was named Steve. After Steve Erwin, because he fucked around with deadly snakes and crocodiles and yet his final demise it at the hands of a stingray....quite possibly the least threatening obstacle he was ever put up against. My truck could do and had done crazy stuff in its life (I bought it off a hunter after all) and yet somehow I know it will be put to rest by something simple like the late Mr. Erwin's sting ray. As for the 510, I bought this car to replace my 720 as my daily along side my z. Also, I'll get a link to the post but anyone at Geno's house a few weekends back after the norcal judo and japanese classic meet would have seen my 510's battery explode all over the place, and it threw the wheel that one time, and I had been driving on that bad head gasket for a while before I actually did anything. And I even found a piece of flathead screwdriver in my oil pan! And yet it's still loyal and alive, but at the same time I know it'll be ended by something silly and unexpected. So the 510 must be the son of my 720, at least thats my logic.
Future plans for Junior:
-KA24e (waiting in my garage for other parts, probly throwing an O & J cam in it)
-Bigger brakes in front
-coilovers in back
-roof rack (gotta have a good rack)
-new fixed back seats (possibly move the current seats into the back and have 4 racing seats? haha)
Who knows after that. but right after the KA is in my focus goes back to Harold, my 240z because I've had that car since I was 16 and I havent driven it (3 years) and I hope I don't hurt any feelings but I like the Z better. The body just gets me.
Thats all for now, I'll try to update as I go along