I wrote a book but it's not a happy story. Nobody wants to read it. It's a true story titled "Expensive Lessons". You could read it for free... You would only pay if you don't learn the lessons.
Just a few more days until the winter solstice. There are a couple weeks there in October where you really notice the days getting shorter and then the weather here really changes. Living in California, I never paid too much attention to the length of the days. I mean, I don't ever remember it having the effect that the it does on me now. I get pretty sad and introspective. Not depressed, but I don't really feel like jumping up and down, clapping my hands either. I guess it's just depressing.
Time runs down into this time of year and I start thinking, another one shot down the tubes. What the heck happened to this year? It's a glass half empty or half full kinda deal. I had a few times when things went great and there was joy and happiness, but precious few. I know better than to say it could have been worse, or dumber... It can't get much worse! Yeah it could.
I can't wait for the days to get longer. It still isn't going to get warmer or drier anytime soon, but just knowing that the potential or opportunity for long sunny warm days helps cheer me up.
It's hard for me to be optimistic, but even though a bunch of booby traps blew up in my face this year, really it could have been worse. In a few weeks or a month, I won't have these doubts and misgivings. The days will start getting longer and we will have another shot at it. I have to remember to be grateful for what I have. I have to remember to remember my personal mythology. Who am I, what am I about here, what the fuck... over?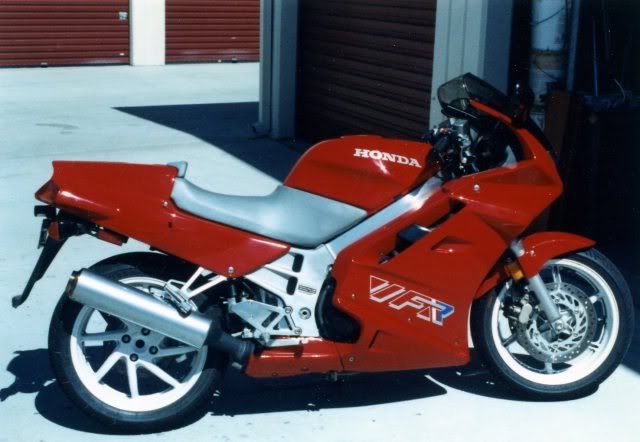 Ahh, V-4 Liquid cooled, four valve heads, chain driven cam train, six speeds and brakes that made your eyeballs flat. I'm felling better already thinking about all of the fun I have had riding motorcycles.
Near ecstasy, on the gas in the middle of the Corkscrew at Laguna.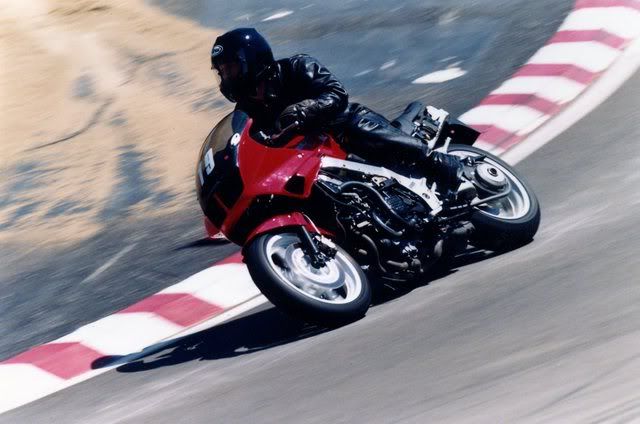 In the summer of '90, the motor of the FVR was just getting broken in and I was on a long Sunday ride out in the middle of nowhere in Central California. It was a spectacular day and there is no better feeling than to be on a modern superbike with a full tank of gas and fresh tires. It's possibly better than sex or playing music.
I decided that I hadn't really explored the horsepower in sixth gear since it was a new bike. I crested this hill onto a five mile long straight through a long valley. With nothing around, I started to roll it on in fourth gear. I let fourth go at about a hundred and ten, then fifth at about a hundred and thirty-five. It was pulling strong at nine and a half or ten grand in sixth. I was trying relax, keep my head and body down behind the windshield and fairing. I wasn't able to look at the tach or speedo because at that rate of speed you must focus as far ahead as you can see. Just as I felt the vibration of the intake and the exhaust valves get to a point where they were howling in unison, I knew there must only be a few hundred RPM left to redline. I saw something come at me from the right side.
It happened in an instant. A small bird flew at me from the side and hit the corner of the visor on my helmet. It felt like I got hit in the head with a baseball bat. At something like a hundred and forty five miles per hour, you don't do anything very quickly, especially chop the throttle or hit the brakes. I tensed up for a second but realized that it was over before I could even process what had happened. I rolled off the throttle slowly and started to sit up at like ninety miles per hour.
I slowed down and turned around. I was way out in the middle of this huge desert like, arid valley with not too much around but barbed wire fences on each side of the road. I spotted the bird, lifeless in the middle of the asphalt. I got off and picked it up in my gloves. My blood was still racing. My heart pounding in my ears and the mechanical tick of the cooling engine were the only noises around. I felt so devastated. It was such a beautiful little creature. I couldn't understand why I had just taken it's life. I was out there fucking around and I had killed this innocent animal.
I kept trying to think and sort out what had happened. I felt so guilty. There had to be some cosmic message or lesson here. I wanted to bury the bird, but I didn't have any tools and there wasn't a twig or stick around. The ground was hard and dry as a bone. I decided to cover him with rocks. As I made a little pile of stones as a monument, I spotted a piece of brilliant white quartz like rock. It didn't look like anything else anywhere around. I don't think that it came from that valley. It had to have come from somewhere high in the mountains I believe. For a second, I was going to use it to top the little pyramid that I was building, but instead, I put it into my motorcycle jacket pocket.
That rock has been in my jacket every time I put my hand into the pocket for eighteen years. It is something to remind me how fragile life is. It could have been me that was gone in an instant.